Plumbing is an always-in-demand service that you as a contractor need to manage quickly and efficiently.
Estimating direct costs for the project such as how much should be charged for service, materials and overheads can often prove to be troublesome and time-consuming.
The biggest challenge for contractors is often to accurately estimate hidden costs that can make your plumbing projects difficult and expensive.
Incorrect estimations may lead to under-delivering, time wastage, and hurting the project's profitability. Fortunately, the widespread increase of plumbing estimating software can help you to undertake projects more efficiently. We've collected the best options here!
Criteria/Selection Guide
The software we looked at had to meet the following criteria to be considered for this list:
Counting materials and labor required across different pages leading to accurate cost estimation.
Industry-leading construction management software that calculates cost estimates for material, job and labor all in one.
Digital tools that help draw and measure for horizontal and riser pipes and add fitting automatically.
Given that, here are the best ones:
Procore
Procore is a construction management software for both commercial and residential projects.
Features
Quickly builds accurate plumbing cost estimates by replacing manual symbol recognition required for takeoff with AI auto-count.
Automatically calculates material, and labor costs and updates in case of shifting costs.
Collaborate instantly across teams and projects by connecting all stakeholders from the owner, main contractor and subcontractor to one system.
Take 3D models of the plumbing construction project for the people installing to have a clear picture.
Analytics tool to turn project information into meaningful and actionable insights that will guide your business.
Who uses it?
Procore is suitable for construction project owners and plumbing contractors for small and even the largest projects and main contractors managing subcontractors.
Final thoughts

Procore has the entire plumbing projects process taken care of. When used systematically, especially for estimates and takeoffs, it makes construction estimation flawless.
Pricing
Procore pricing depends on the products you need and the amount of construction you do. You can also choose which products you want to purchase depending on your different business needs.
FastPIPE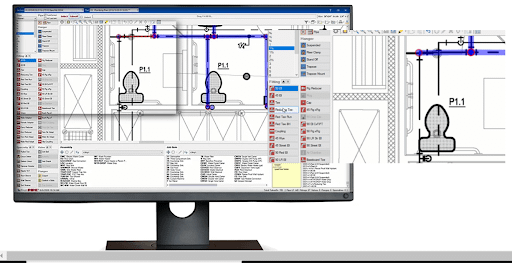 FastPIPE is a plumbing and mechanical cost estimating software for commercial and industrial contractors.
Features
Support for a large variety of digital plan formats including PDFs and the ability to export final quotes to an Excel workbook
Labor and material reports are filtered and sorted as required
Materials pricing can be job-specific based on your supplier quotes
Specifications can be tailored to cloud-based jobs
Takeoffs are performed directly on their digital job plans using FastPIPE's on-screen digitizer
Labor rates are based on industry standards and can be adjusted by job site conditions
Who uses it?

FastPIPE is used by plumbing and mechanical contractors for estimating construction costs such as material and labor.
Final Thoughts
FastPIPE is appropriate for plumbing contractors focusing on large projects with the need to estimate costs accurately. They also offer a 60-day money guarantee for trying the software out.
Pricing

The software has different pricing for stand-alone deployments on single PCs and enterprise options. 
For stand-alone deployments, you can purchase their First System at $4995 or lease at $225 per month and you can also purchase additional systems at $2495 or lease for $93 monthly. They also offer software maintenance at $1100 per year. You can contact them for a demo
STACK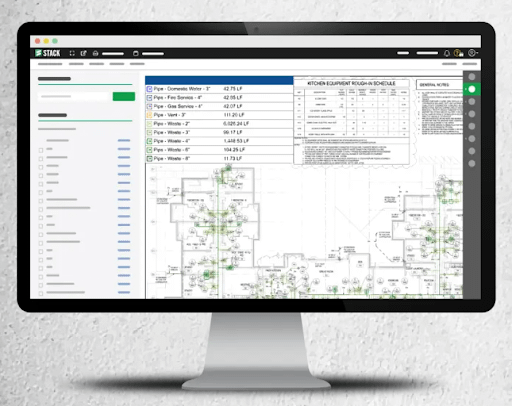 STACK is an all-in-one cloud-based estimating and taking-off construction software for both residential and commercial professional contractors.
Benefits of STACK
Detailed cost estimating and polished proposals complete with company brand and terms
Create a detailed bid by incorporating labor costs into estimates using prebuilt and assembly libraries
Plan, specification and document management for reviewing overlay plan versions, organize folders and quickly search through their system
Cloud-based quantity and material take-offs to access plans and collaborate anytime and anywhere from any device
Use of powerful automation such as auto count, take-off templates and pre-built materials that saves time
Who uses it?
General contractors, home builders, trade contractors such as plumbers and suppliers and manufacturers of construction management.
Final Thoughts
STACK will deliver results for estimating and take-off plumbing projects. It goes beyond being a collaboration tool and comes in handy for creating proposals that make the process better.
Pricing
They have three pricing options depending on the access users, view-only users and you also get unlimited projects.
The start plan for single estimators goes for $1999 per year. The growth plan for preconstruction teams is $4999 per year. Build a plan that you can customize with your crew for you to consult with them to agree on pricing.
They also have a test plan if you would like to try it out.
Esticom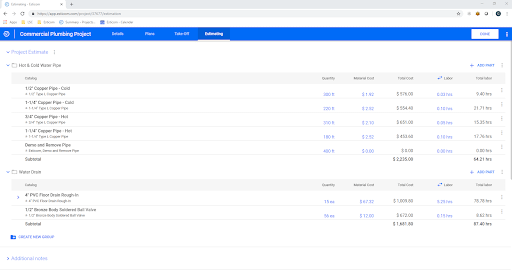 Esticom is a cloud-based construction and take-off and plumbing estimating software for both residential and commercial contractors.
Features
Built-in bid management software to streamline your estimating process and organize projects.
Autocount enables a contractor to count items across multiple pages and filter search to ensure accuracy.
Plan management that you can update projects with new versions and organize and rename plan sheets into folders.
Material database for parts and assemblies and includes material pricing plus labor units estimation.
Design and plan Mark-Up tools to design symbols and annotate plans.
Who uses it?

The software is for general contractors, plumbers, electricians, HVAC companies and other trades.
Final Thoughts
Esticom works well for contractors who would like built-in estimating, project management and operation management tools on the cloud.
Pricing
They offer two pricing plan options. There's a monthly subscription which you can pay month to month per user and can cancel anytime. They also have an annual subscription.
They offer a 14-day free trial that functions fully and no credit card is required.
PlanSwift
PlanSwift is estimating and take-off software that helps plumbers estimate costs for both commercial and residential contracts.
Features
Use PlanSwift overlay as an installation guide and download the portions of the plans you need to your phone.
Plumbers can swiftly measure linear feet for CPVC, drain and supply piping.
Get accurate instant takeoff counts for fixtures and fittings with point and click ease.
Create custom assemblies of commonly used materials, waste and even labor.
Import your plans into the software and export estimates to Excel.
Who uses it?
PlanSwift is used for trades such as plumbing, flooring, HVAC and general contractors as it is easy to customize.
Final Thoughts
Solid software for plumbing contractors who would like to work on the estimation and take-off technicalities and are simple to use.
Pricing
They have a PlanSwift Professional plan that costs $1595 per user including software support for the first year thereafter pricing support of $300 yearly.
They also offer one-on-one customer training at a rate of $300 per 3 hours. You can try the full version of PlanSwift Professional for 14 days free.
Trimble AutoBid Mechanical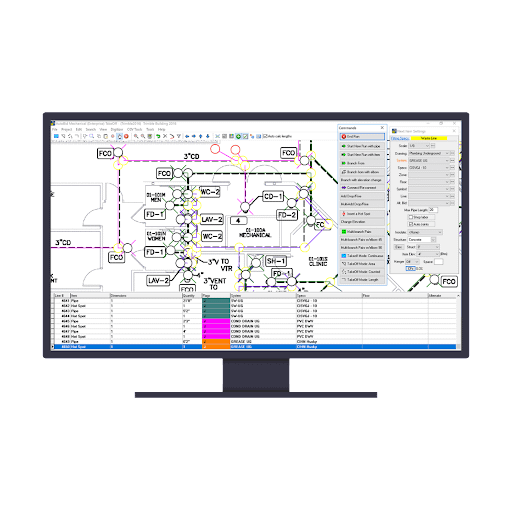 Trimble AutoBid Mechanical is an estimating software for plumbing, piping and mechanical contractors for both residential and commercial construction.
Features
Use integrated plumbing graphical takeoff and autofitting generation to create more accurate estimates.
Support workflows from estimating and through installation all powered by managed manufacturer-specific content.
BIM collaboration to connect offices to the field by giving the right people access to critical data they need to limit rework.
Design constructible 3D level of development standards with 400 models that are fabricable and can be used for layout.
MEP content by use of complete BIM and prefabrication workflows using a library of real-world MEP products.
Who uses it?
Trimble AutoBid Mechanical is for contractors in the plumbing, electrical and mechanical trades.
Final thoughts
Trimble's plumbing contracting solutions support workflows from estimating all the way through installation, reducing waste every step of the way.
Pricing
For Trimble AutoBid Mechanical pricing, the contractor should contact sales to obtain current pricing for the specific products.
ServiceTitan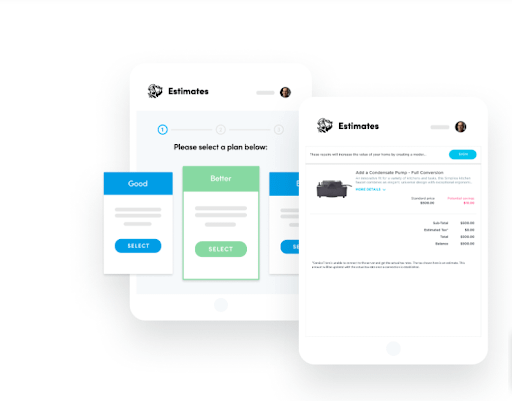 ServiceTitan is a cloud-based software platform for contractors to run their business for both residential and commercial plumbing construction.
Benefits of ServiceTitan
Helps in scheduling and strategizing complex jobs and categorizing upcoming jobs so their team is prepared for any unusual requirements.
Plumbing flat rate pricing software to bundle various service costs including surcharges to protect their bottom line.
Plumbing software for QuickBooks to maintain automatic accounting and keep accurate financials.
Plumbing reporting software for real-time insights into revenue trends, market ROI and team performance
Who uses it?
General contractors use the software, including plumbing and for service and replacement trades.
Final thoughts
ServiceTitan is suitable software for plumbing contractors who need software that apart from estimating also covers valuable business needs such as the market ROI.
Pricing
ServiceTitan software has three packages per technician pricing. There's a starter package for the must-have tools for your business.
Essential packages are for streamlining operations with industry-leading features. The Works is a full ServiceTitan suite to accelerate growth.
You can request pricing for a specific package.
Orcatec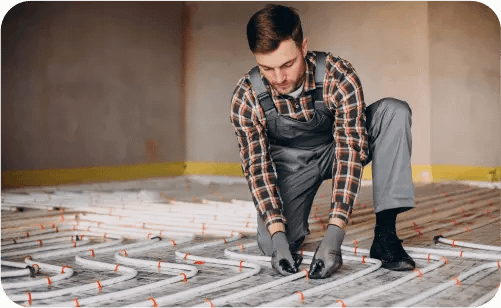 Orcatec is a workflow software and business management online platform for contractors for both residential and commercial construction.
Features
You can use their software for field proposal generation
Equipment orders and contract maintenance
Dispatch work for your team through a system of work planning and GPS tracking of your field team
Marketing and analytics tools to track your marketing funds
Who uses it?
Contractors for trades such as plumbing, HVAC and any field service business
Final thoughts
An efficient software if you want to manage both office and field operations. It has features that aim at improving the client's company reviews.
Pricing
Orcatec has a basic subscription in which all the services are free. The optional modules plan gives a 30-day trial for their software-specific features.
Get their limited free access from their website.
Conclusion

As a plumbing contractor, you'll face all kinds of situations – those in which clients have emergencies that need to be fixed as well as planned installations and repairs.

Emergencies especially may require a quick and accurate action that manual plumbing estimation cannot deliver. Plumbing estimating software will save you time, simplify project management, and boost performance and profitability.
We always work to provide professionals with the latest insights, trends and valuable information, so sign up for the Construction Fanatics newsletter now!