Drywall contractors must first win the bid before commencing a project. To win the bid, they create a construction takeoff to help them estimate the project's costs.
Bidding is a competitive process, so each contractor must up their game and present accurate yet competitive estimates to win. Traditionally, takeoffs were performed manually using pencils, calculators, rulers and printed plans.
The process was time-intensive, often taking more than two days per project. It could also have critical errors which could force contractors to repeat all the steps or lose money.
Technology has taken the load off contractors' shoulders and enables them to give fast and accurate estimates. They can now bid more often and win more jobs at short intervals. Some software help contractors create winning bids and price accurately.
This article will give you comprehensive info about the best software for your drywall estimating needs.
Criteria/Selection Guide
The various drywall estimation software options are created differently. Some may specialize in one specific aspect of the takeoff process, while others may offer an all-around estimating functionality.
The software had to meet the following specific criteria to be considered for this list:
Point and click functionality
Integration with other platforms like Excel, QuickBooks, etc.
Customer support
Trade-specific databases
Based on these criteria, here are the best ones we found.
Stack
Stack is a cloud-based construction estimating and takeoff software for contractors of all business sizes in various trades.
Features
Cloud-based quantity and material takeoff – you can access it online wherever you are and on various devices for fast, accurate measurements and counts
Real-time collaboration and connectivity – teams can work together from various locations and communicate timeously to ensure no deadlines are missed
Comprehensive cost estimating and proposals – advanced preconstruction tools help you make accurate estimates and timely responses to bid requests You can also quickly create customized proposals, placing you ahead of the competition
Document management – securely store your documents, project plans, etc. in a single, central hub to stay organized and make sorting fast.
Suitability
Stack is best for general contractors, home builders, trade subcontractors, suppliers and manufacturers.
Verdict
Stack outperforms other cloud-based estimation software. It is set apart by an all-in-one preconstruction solution, a modern easy-to-use platform, dedicated support teams and weekly product updates.
Pricing
Stack has four subscription options. The Free option allows you two concurrent projects each accessible for seven days. The starter option at $1,999 per year, allows unlimited projects for one full-access user and two view-only users.
The Grow option, $4,999 per year, allows unlimited projects for three full-access users and six view-only users. The build option is for more than four full-access users and more than seven view-only users working on unlimited projects.

Planswift
Planswift is an estimation software that is easily customizable for commercial or residential construction.
Features
Top-rated customer support
Automatic material and labor calculation for an accurate estimate each time
Point and click for all your measurements – walls, ceilings and partitions
Area and linear tools calculate surface areas and square footage instantly
Cheap and effective
Suitability
It is best for general contractors, subcontractors and estimators.
Verdict
Planswift is an affordable and effective software that meets general contractors' and tradesmen's needs.
Pricing
Planswift requires a one-time fee of $1,595 to download and gives you unlimited use. You can pay a one-time $300 to purchase multi-hour training sessions.
Software updates and support programs are optional and cost $300 per year. The software also offers a 14-day free trial for users to test it out without commitment.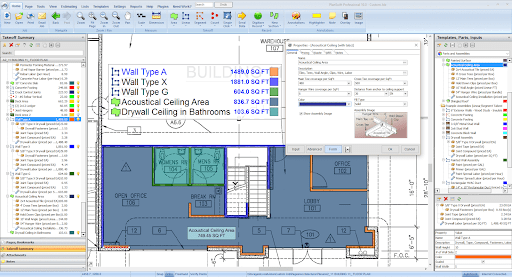 Estimating Edge
Estimating Edge is an all-in-one drywall takeoff and estimating software designed for commercial drywall subcontractors.
Features
Cloud-based – your estimates and data are safely and securely stored in the cloud, allowing you and your team to work together even when you are some distance apart
Analytics and reporting – analytics and reporting are available to help you make informed decisions
Trade-specific – the software is customized to your trade. It also uses the language, manufacturers, and measurements you often use in your business
Best customer service – you get excellent customer service from trade-experienced staff
Industry-leading features – Edge is the only software offering top-notch features like Smart Labor and an automatic update option for the entire project at a mouse's click
One-on-one training – the software is intuitive, but technical training and support are offered to help your business get the most out of it
Suitability
Estimating Edge is best for drywall subcontractors and estimators.
Verdict
Estimating Edge is a fully integrated drywall and estimating software to help you quickly and accurately price commercial drywall ceiling and wall projects you want to bid on.
Pricing
Estimating Edge is the industry's best takeoff and estimating software that gives you a competitive edge. Your estimates are faster and better.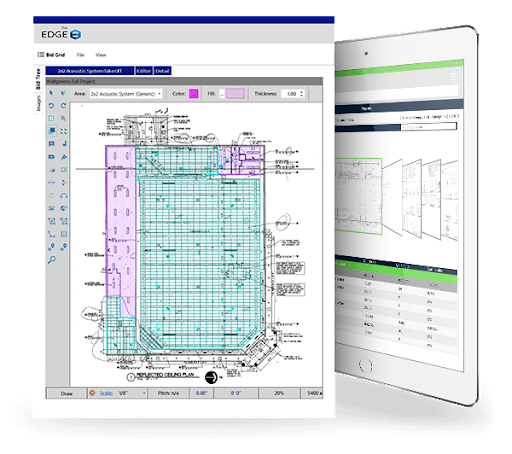 OnCenter
OnCenter drywall estimating software is suitable for both commercial and residential construction.
Features
On-screen takeoff – measure walls (drywall and ACT ceilings) and calculate takeoff with a few clicks
Quick-bid – you can easily get material lists for drywall, ceiling, tape, and other materials
Digital production control –track labor efficiency as well as the percentage of completed work. Know the actual amount of drywall your crews can install per day/hour and make accurate estimates
Suitability
OnCenter is best for general contractors and subcontractors.
Verdict
OnCenter helps you reduce costs, save time, and improve your estimating accuracy.
Pricing
The price depends on the number of users and the additional features you purchase. The software comes with a 14-day free trial for you to test the on-screen takeoff.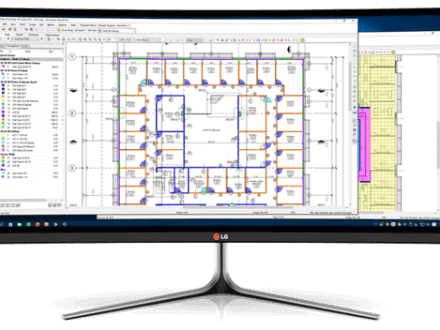 Jobber
Jobber is a drywall estimating software for residential construction.
Features
Jobber's drywall bidding software allows you to create, send, and track estimates from a single platform and duplicate them with a few clicks
Optional add-ons, packages, and images to help you create customized quotes
Customers can easily approve your quotes online
Monthly financing options are available for your customers
Suitability
Jobber is best for drywall businesses, general contractors, and handyman businesses.
Verdict
Jobber keeps you ahead of the competition with easy estimates and customer impressions.
Pricing
Jobber has three subscription options billed annually and a free trial. The Core option costs $34 per month for one user. The Connect option $104 per month supports up to seven users. The Grow option $208 per month is for up to 30 users.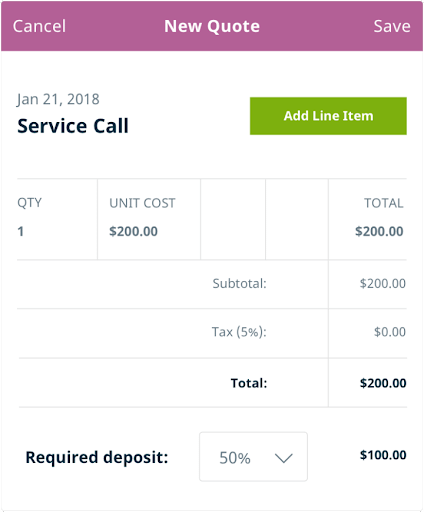 Square Takeoff
Square Takeoff is a drywall estimating software for both commercial and residential construction.
Features
Accessible on any device with a web browser
Cloud-based – teams can collaborate in real-time while in various locations
Easy takeoff calculations with a point-and-click interface
Accurate estimates to create winning bids
Seamless integration with other tools like Excel, PDFs and Google Maps
Suitability
It is best for general contractors, subcontractors and other specialists.
Verdict
Square Takeoff is a fairly priced cloud-based software with convenient integrations to help you save time and money.
Pricing
Square Takeoff has a one-time subscription of $997 and an annual renewal of $399. It also offers a free 14-day trial.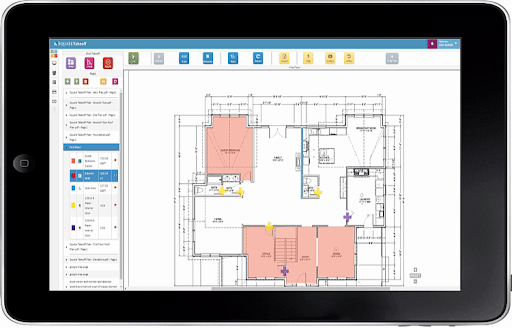 Pro Bid Drywall
Pro Bid drywall is a drywall estimation software application for desktops.
Features
Easy to use with a user-friendly dashboard
Accurate material lists and an elaborate project bid
Available on Mac and Windows, iOS with Android versions coming soon
Various reports and a supplier quote system
Suitability
Pro Bid is best for drywall contractors and gypsum material brokers.
Verdict
Pro Bid Drywall is an easy-to-use software to help you create accurate material lists and detailed project bids.
Pricing
The app modifies pricing to suit your project zip code.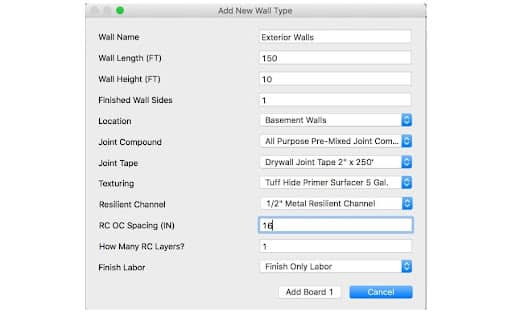 eTakeoff
eTakeoff is a drywall estimating software suitable for residential construction.
Features
High accuracy in your project bids
Easy computation of hours of work per project and the number of materials required
Easy to use platform
Compatible with Excel and PDFs
Suitability
eTakeoff is best for drywall contractors, general contractors, and estimators.
Verdict
eTakeoff will integrate with your existing programs and is a software that gives fast and accurate estimates and takeoffs.
Pricing
eTakeoff has three versions – Free, Advanced and Premier. The Advanced version costs a one-time $950 and an annual $190 for support and maintenance thereafter. The Premier version costs a one-time $1895 and an annual $380 for support and maintenance.

Field Groove
Field Groove is a drywall estimating software suitable for residential construction businesses.
Benefits
Team management – oversee your employees, jobs, inventory, and equipment to improve your business efficiency
Accurate measurements – get accurate job measurements and material estimates irrespective of irregular surfaces
Centralize your daily operations –manage each project from lead to post-job reporting
Integration with other applications like QuickBooks, Twilio, Sage 300, etc.
Suitability
Field Groove is best for drywall contractors.
Verdict
Field Groove gives you a central platform to host your business operations and improve your workflow with speedy job and material estimates.
Pricing
Field Groove has a free trial period. Its subscription version has no restrictions on the number of users, estimates, jobs, etc.
Conclusion​
Manual calculation of drywall estimates is old-fashioned, time-consuming, and error-prone. Drywall estimating software will save your time, increase your accuracy, create winning bids and help you meet deadlines.
There are plenty of drywall estimating software currently available, but the list above gives you a comprehensive view of the best. You can check them one at a time to establish the most appropriate for your estimating needs.For the latest insights and information about drywall estimating software, sign up for our newsletter here!