We've scoured the internet looking for the best estimating software that will allow you to accurately compile your costs to make accurate bids to your prospective clients.
Criteria/Selection Guide
The software we included in our list had to meet the following criteria to be considered:
Ability to calculate the estimated cost of the job and categorize material and labor costs.
Enable import of data from takeoff, include digitizer tools for drawing the floor plan, and then automatically calculate labor and material costs.
Generate professional bid proposals.
Given that, here are the best ones…
Buildertrend
Buildertrend is an estimation software for both commercial and residential contractors.
Features
You can easily create estimates, send customized proposals and achieve more sales.
Allows import for Excel and other software.
Work from existing templates and collect digital signatures.
Collect the leads on your website's contact page, import using Excel and add them from the Buildertrend app.
Automate email campaigns, send emails to potential clients and customize templates and messages.
Create and update schedules easily – drag and drop one task and the rest update automatically
Suitability
Buildertrend is suitable for homebuilders, specialty contractors, remodelers and commercial contractors.
Verdict
Buildertrend helps you build a better client experience, get exact estimates and easily adjust your schedules.
Pricing
The software has two plans. Pay $99 per month for the Core Plan and $399 per month for the Pro Plan for the first two months. From the third month moving forward, the cost is $349 per month for the Core Plan and $599 for the Pro Plan.
It has a 30-day free trial and the paid plans come with a 30-day money-back guarantee.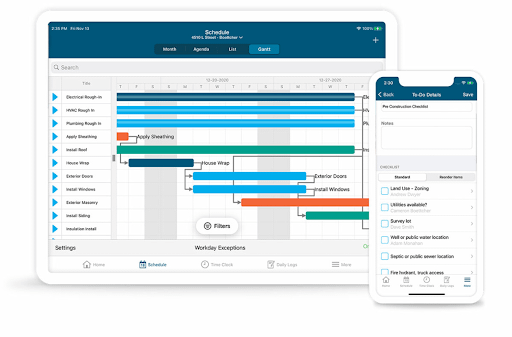 CoConstruct
CoConstruct is a construction management software designed for residential construction businesses.
Features
Simplified project management – CoConstruct's cloud system keeps you connected to your team and keeps your projects running smoothly.
Seamless communication – you can get all your project communication within seconds and record every message.
Streamlined financials – take charge of fixed-price and open-book jobs and plan your change orders effortlessly.
Focused operations – take charge of every detail of your project by tracking it from its start to its completion.
Single entry estimating
Simple bill management
Suitability
It is suitable for home builders, design-builders, spec-builders, remodeling companies and other residential construction businesses.
Verdict
CoConstruct is an all-in-one construction software for easier management of projects, clients, and contractors.
Pricing
CoConstruct has two plans, and both come with a 30-day money-back guarantee.
The Standard plan goes for $99 per month and the Plus version for $399 per month for the first two months. After the first two months, the Standard version costs $349 per month and the Plus $599 per month.
Buildxact
Buildxact is an estimation software designed for residential constructions.
Features
Builders and remodelers can organize everything on one platform.
Prioritize leads and track purchase orders
Produce accurate takeoffs and estimates
Assign tasks and schedule material deliveries
Create financial reports to track payroll and profits
It allows dealers to provide superior customer service.
Dealers can track their teams to ensure they are working efficiently. This helps them get more time to consult with clients and find new business.
Suitability
Buildxact is suitable for builders, remodelers, dealers and partners (builders' trade groups, associations, etc.).
Verdict
With Buildxact, you can complete takeoffs, set and manage schedules, dispatch final invoices and assess financial reports on one software platform.
Pricing
The entry plan goes for $149 per month while the Pro goes for $249 per month. A free 14-day trial period is also available.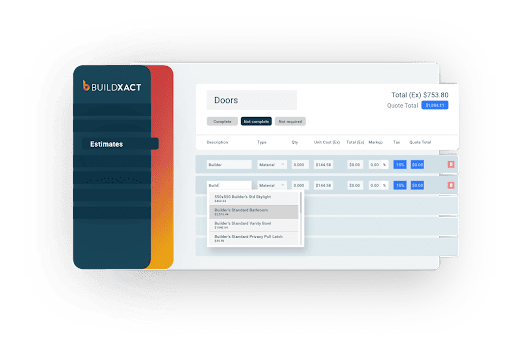 MeasureSquare
MeasureSquare is a flooring estimating software for both commercial and residential projects.
Features
Estimates all flooring types such as tiles, sheet vinyl, VCT, LVT, carpet and hardwood
Handles large projects
Fast and uses an advanced layout estimating algorithm
Flexible and quality PDF reporting
Proactive customer services
Trusted by various elite commercial flooring contractors both in the US and Canada
Instant waste optimization
Custom tile pattern designer – create complex tile patterns to win design projects easily
Random tile layout on floors
Compatible with most ERP/CRM
Suitability
MeasureSquare is best for project managers, estimators, sales reps, etc.
Verdict
MeasureSquare is the leading flooring takeoff estimating software for commercial contract bids. It offers a state-of-the-art takeoff estimate with a dedication to customer success.
Pricing
The multi-family plan costs $149 per month while the commercial plan goes for $179 per month. It also has a 14-day free trial period.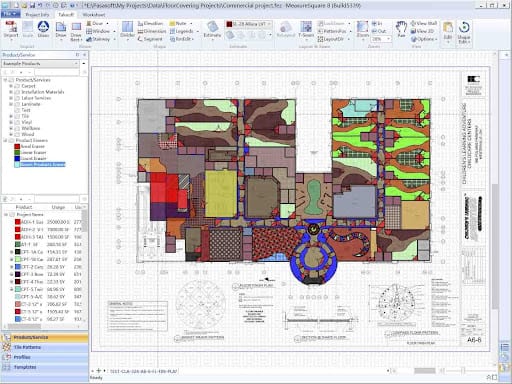 PlanSwift
PlanSwift is a takeoff and estimation software designed for commercial, residential, industrial, and institutional contractors and subcontractors.
Features
One-click option for selecting tile, carpet, hardwood or laminate floor areas
Easy measurement of the peripheries of the nail strip and baseboard
You can easily measure, count, calculate, print or export. You can also drag and drop the parts directly onto the digitalized blueprint and begin the estimation process
Time-saving – it gives an accurate estimation within an abbreviated time
Suitability
PlanSwift is suitable for general contractors and subcontractors looking for accurate flooring estimation and time-saving software to bid more.
Verdict
PlanSwift is an easy-to-use floor estimating software that gives you value for money.
Pricing
PlanSwift costs $1,595 a one-time payment for a lifetime license. It also has a free 14-day trial.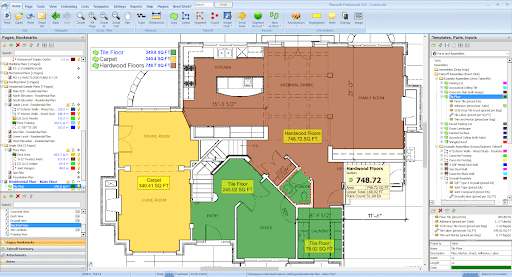 QFloors
QFloors is a flooring estimating software for various flooring industries such as commercial, residential, multi-family, etc.
Features
Measure with ease using your Bluetooth laser measuring device
On-screen seam placement, varying flooring products, and pattern matching options. The 2D and 3D layouts enable your customers to visualize your explanations
Stores imported quantity, cost, and bid info for future reference
Optimized mobile app for smartphones, iPads, and tablets
Professional estimates with MeasureSquare desktop
Improved external and internal communication – installers know what to work on at any given time
Suitability
QFloors is suitable for businesses in various industries including commercial, residential, builder, multi-family, mobile showroom and distribution.
Verdict
QFloors is a user-friendly and flexible software that fits your products and grows with your business.
Pricing
QFloors starts at $1,400 per user and varies with the number of users and maintenance.,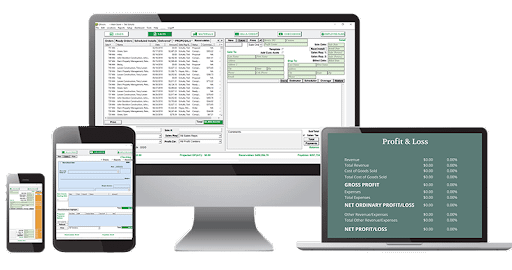 On Center
On Center is a trusted provider of automated flooring estimation software for both commercial and residential contractors.
Features
Optical Character Recognition (OCR) – allows you to count similar objects within your drawings
Intelligent paste logic – copies and pastes takeoff objects into the corresponding distance, space, and directions. It's helpful for similar layouts such as apartments, hotels, etc.
Multi-condition takeoff –you can select several conditions, draw the takeoff once and the system places the takeoff objects appropriately and simultaneously on the plan
Time-saving – point, click, and drag the objects you need and the on-screen takeoff will take care of it
Overlay –when comparing two drawings, it highlights deleted items in red and added items in blue
You can create style sheets and templates to avoid repetition of tasks
Suitability
On Center software is suitable for contractors in the flooring trade.
Verdict
On-Screen Takeoff (OST) incorporates Quick Bid and Digital Production Control to help you create a comprehensive estimate and track labor production. This heightens your accuracy, saves you time, increases your bids and maximizes your profits.
Pricing
On Center offers a free 14-day trial to experience the On-Screen Takeoff.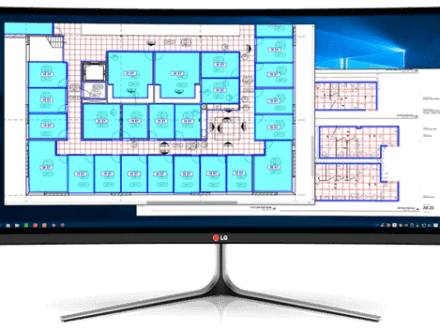 Estimating Edge
Estimating Edge is a construction estimation software designed for commercial estimators.
Features
All-in-one flooring solution – the software is customized according to your business operations, material brands, and manufacturers
Designed for the flooring trade – it provides increment area based on flooring type
Customizable reporting
Industry-leading features
One-on-one training
Best customer service
Suitability
Estimating Edge is best for professional flooring contractors.
Verdict
Estimating Edge provides end-to-end reports from takeoff to the final estimate.
Pricing
You can find out more about pricing by scheduling a demo.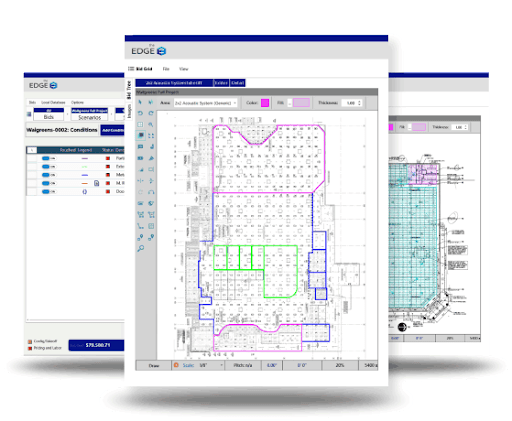 FloorRight
FloorRight is an estimation software built to meet both commercial and residential needs.
Features
It handles a variety of file types – you can import PDF, AutoCAD, DWF, Bitmap and scanned images. You can open multiple PDFs for the same job.
Room multiplier – if the rooms are exact replicates, the software will multiply the rooms automatically once you select the number you need.
Tagging feature – it adds tags, corners, carpet base, tile base or wood base.
You can print reports as many times as you'd like.
You can create your own keyboard shortcuts for most of the toolbar options.
It creates a seam layout using an algorithm that minimizes waste.
It offers a custom tile creator.
Suitability
FloorRight is most suitable for floor managers, contractors and estimators.
Verdict
FloorRight is a flooring estimation software that quickly and accurately quantifies all the materials you'll need when bidding on a project.
Pricing
FloorRight has two options with distinctive features. The professional option costs $75 per month while the commercial costs $150 per month.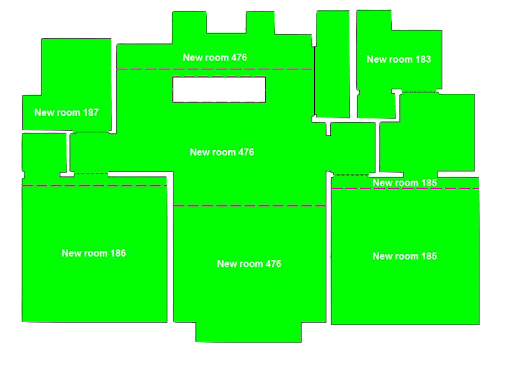 PreBuilt ML
PreBuilt ML is software that helps you estimate flooring takeoff for both commercial and residential structures. It has two versions – PreBuilt ML PROtrade and PreBuilt ML X. Choose the PROtrade option to get specialized services for flooring.
Features
It is faster, more efficient, and easy to use.
It reduces wasted or missed materials with an automated Quick Check to double-check your material list.
Excellent customer support
You can export your material lists to excel, PDF, CSV, and other popular points of sale systems.
Intuitive controls – measuring linear footage, square footage, hardware counts, etc., requires you to point and click.
You can create custom layouts and databases.
It offers several training videos and tutorials to help you familiarize yourself with the system.
Suitability
PreBuilt ML is best for general contractors, lumber dealers and home builders.
Verdict
PreBuilt ML helps you to automate the flooring takeoff process, minimize material waste, streamline job efficiency, and minimize billable hours.
Pricing
PreBuilt ML PROtrade costs $30 per month which is billed annually.
RapidBid
RapidBid is an estimation software built for both commercial and residential construction.
Features
Saves contractors up to four hours on each quote they prepare
Instantly measures and calculates carpet and tile areas and other flooring tenders
Saves you so much time and comes at a very affordable rate
Suitability
RapidBid is best for contractors.
Verdict
RapidBid is a flooring estimating software that costs you less than your daily cup of coffee.
Pricing
The contractor package costs $55 per month and the professional package goes for $80 per month. All packages come with a 30-day moneyback guarantee.
Conclusion​
Manual flooring estimating is a time-consuming process and is prone to errors. It is better for contractors and all stakeholders in the construction industry to use flooring estimating software.
Flooring estimating software will save you time and help you track the complete process to save on materials and labor. You can place more bids and win more jobs since customers will trust and embrace the process.
If you want content like this delivered right to your inbox, sign up for our newsletter here.