According to research, the United States construction industry has currently employed over 36,000 general contractors (GC). However, the available GCs can barely handle the demand, thanks to the ever-growing number of construction projects (which is projected to increase even further).
A U.S. Chamber of Commerce report indicates that construction projects lag so much, with most contractors reporting a backlog of up to 9 months. In other words, the market presents a ripe opportunity for anyone wishing to venture in as a general contractor.
If you're interested in becoming a GC, then this article has all the information you need. From understanding the responsibilities of a general contractor to legal and education requirements, you will have the necessary information to help you start on the right footing.
Areas Covered Include:
Who Is a General Contractor and What Do They Do?
What Are the Different Types of General Contractors?
What Are the Requirements for GC Eligibility?
Is Hands-On Experience Necessary?
Do You Require License to Operate?
How to Start Your Contracting Business
Preparing a Business Plan
Which Insurance Policies Should You Get for Your Business
How to Develop Your Brand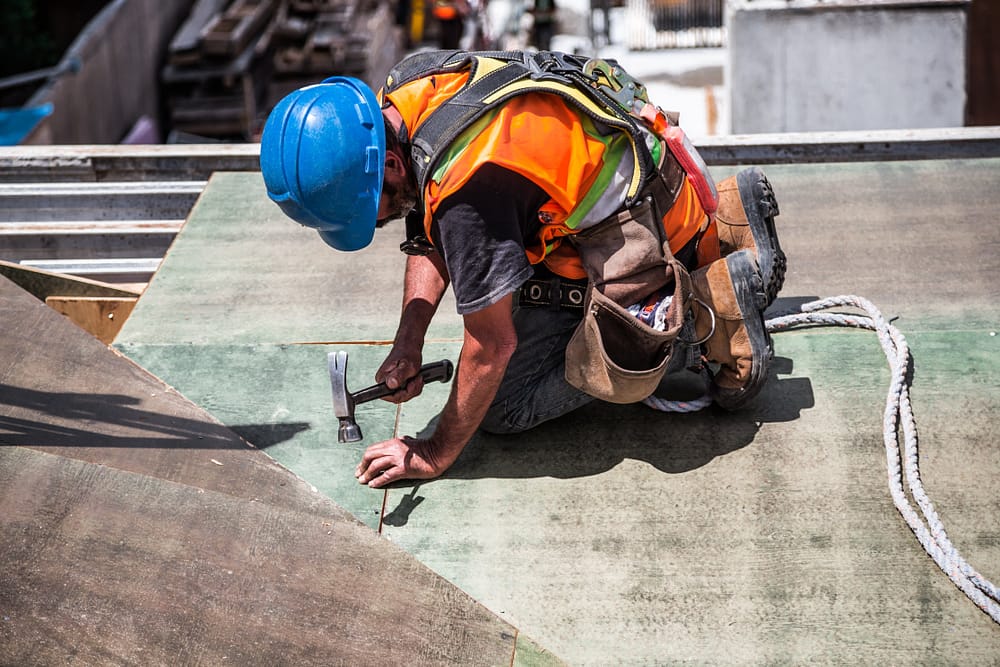 Who Is a General Contractor and What Do They Do?
A general contractor (GC) is the person responsible for overseeing a construction project from start to finish. They provide the material, labor, equipment, and all the services essential for executing the project.
A general contractor is hired by the project owner and can either be an individual or a company. Then they hire subcontractors to execute the project, only playing a supervisory role and acting as an intermediary between them and the project owner.
What Are the Responsibilities of a General Contractor?
Working as a general contractor requires strong managerial skills. In any standard project, you will be working with different professionals – architects, masons, plumbers, electricians, roofers, painters, ironworkers, carpenters, etc. You will also be working directly with material and equipment suppliers, as well as regulatory authorities for inspections and permits.
If you have the stamina and skill to coordinate all the people and processes required for successful project execution, then a career as a GC can provide immense benefits. Generally, your responsibilities will vary depending on the project, but the common ones include:
Project planning – Developing a project plan is usually the first step in any project. Among other things, the plan should outline the project stages, list the materials and equipment required and procurement arrangements, as well as highlight any potential risks and ways to mitigate them.
Compliance – Before commencing the project, you must familiarize yourself with the applying regulations and request the necessary inspection and permit issuance. This includes zoning and building permits, as well as your licenses and insurance covers.
Project management – Once the project kicks off, you will be responsible for managing every last detail for timely project completion. This will include ensuring materials, tools, and equipment are available when needed, hiring subcontractors and ensuring they maintain high-quality standards in every part of the project, managing project funds, making timely payments, and preparing continuous project reports.
Project coordination – Again, you will be responsible for coordinating various subcontractors to ensure the work is done efficiently. For instance, it's your duty to determine when to engage a plumber, an electrician, tiler, or painter. That's why industry experience comes in handy, as you can tell the ideal stage to hire different professionals so that the project progresses smoothly.
What Are the Different Types of General Contractors?
General contractors fall under different classifications. For instance, corporate contractors usually run with a big team and several projects going on at a time. On the other hand, individual contractors are often small-scale, handling one or two projects at a time. But generally, the main differentiating classifications of GCs are;
General residential contractor – GC for residential construction
General commercial contractor – GC for commercial construction
General dual contractor – Can handle both residential and commercial construction
What Are the Requirements for GC Eligibility?
Luckily, the barriers of entry to a GC career are pretty minimal. The minimum requirements mainly include:
Must be at least 18 years
Possess a high school diploma, though having a degree in civil engineering, construction science, or construction management can make you more competitive.
Eligibility to work in the U.S.
Have a clean work record
Is Hands-On Experience Necessary?
There are two paths to a GC career. Having demonstrated experience in the construction industry as an electrician, plumber, carpenter, etc., is one of them. But you can still become a general contractor even without hands-on experience by acquiring a degree in civil engineering or construction management. Though gaining a few years of hands-on experience after your degree can make you more competitive.
Do You Require License to Operate?
To operate as a general contractor, you require a license. The licenses fall under three categories, which depend on the scope of the work you intend to do.
Class A license – Awarded if you have a minimum experience of two years. This is for individual projects ranging between $10,000 and $150,000 per year.
Class B license – Awarded if you have a minimum experience of three years. For individual projects ranging between $120,000 and $750,000 per year.
Class C license – Awarded if you have a minimum experience of five years. Allows you to accomplish unlimited projects, but you must take a pre-license course and pass the exams.
How to Start Your Contracting Business
With the demand for housing so high, setting up a contracting business is a viable idea that stands to yield tremendous profits. If you get things right from the onset, the better your chances of succeeding.
The good news is that with your managerial skills and construction knowledge, you have the essential elements for running a contracting business. But that's not all. There are other small bits that you need to plug in for the smooth running of the venture.
Below are a few tips to consider.
Evaluate your skills – As a GC, your clients entrust you with the responsibility of overseeing their construction projects from start to finish. For this reason, you must be well conversant with the project in question. In addition to helping you plan the most efficient way of getting the job done, having experience enables you to identify when things aren't going okay and redress before it's too late.
Choose a professional name – Your business name is an important part of your branding and can go a long way in shaping potential customers' perceptions. Choose a name that represents your brand well. For instance, a potential customer should be able to tell what your business offers by reading your name for the first time. If the name is easy to read and not too long, that will also be a plus.
Set up the business – Once you acquire the necessary professional licensing, the next step is to set up the business. Begin by registering the business (either as a limited liability company – LLC or a corporation), then open a bank account to separate your personal assets from company assets. Drawing the line between the two helps protect your assets should the business run into financial or legal hurdles.
Hire contractors on merit – Once you set up the business, many people will offer to work with you, including friends and acquaintances. However, it's prudent to treat the business as an entity and give it the best management possible, including bringing in the right people on board. Otherwise, by overlooking this aspect, you can end up assembling a team of average performers, which can negatively impact the quality of work and your reputation.
Outsource professional services – When starting, you don't have to assemble a complete in-house team of admin, accounting, legal, HR, etc. For most tasks such as accounting, HR, or legal, outsourcing can be ideal. Besides, you will be getting high-skilled services at a much lower cost than you would spend on an in-house team.
Again, having a team of professionals running the behind-the-scenes operations can go a long way in helping you avoid compliance pitfalls, as they are always abreast with new regulations and trends.
Preparing a Business Plan
A business plan is usually a blueprint that highlights your goals as a business and how you intend to achieve them. Essential parts to outline on the plan include:
Company overview
Services
Market analysis (research your target customers)
Web plan summary
Management summary
Competition
Financial plan (Start-up costs, operating costs, income projections, funding, etc.)
Which Insurance Policies Should You Get for Your Business
However skilled your team is, so many things can go wrong on the site. Having the necessary covers from the get-go is essential to protect your business from potential suits following an accident.
Examples of suitable policies include;
General liability insurance – Covers slip and fall accidents, damaged customer property, etc.
Worker's compensation insurance – Covers employee medical expenses, missed wages, etc.
Professional liability insurance – Covers accusations of negligence, failure to meet specifications, etc.
Builder's risk insurance – Covers worksite theft and vandalism, etc.
The above list represents a few picks. Your insurer should recommend the ideal options to ensure the business is fully covered from potential risks.
How to Develop Your Brand
While the demand for general contractors is impressively high, you will still be competing with other GCs for contracts, some of whom are pretty seasoned. For this reason, you need to develop a strong brand identity to differentiate yourself and win clients.
From creating a professional logo to choosing warm brand colors, developing your brand voice, and establishing an active online presence, every small effort towards building your brand will pay in the long run. This should go hand in hand with reputation-building efforts such as networking with other experts, developing a solid work ethic, honing your leadership skills, and constantly improving your knowledge.
Conclusion
Setting up a general contracting business can be a rewarding career move. With minimal barriers to entry and an ever-growing demand for housing, nothing should hold you back. As long as you fulfill the basics and have at least two years of hands-on experience, all you need to do is get the necessary licensing, and you will be ready to venture into the industry. However, before launching the business, it's vital to insure yourself and lay the foundations necessary to build a strong brand that can stand up to the competition. Meanwhile, be sure to check out our other resources here for inspiration and update on industry news.