Rough carpentry is a vital component in most buildings, and yet it's something most people never see and rarely think about.
Compared to the kind of carpentry that's on display and gets praised for its craftmanship, rough carpentry is rarely acknowledged, let alone lauded.
Nevertheless, this overlooked craft requires strategy, attention to detail and a high level of skill, and makes a significant contribution to the construction industry.
Here, we will discuss what rough carpentry is, how it differs from other types of carpentry, the skills and certifications you need, and the income projection for those interested in becoming a rough carpenter.
What Is Rough Carpentry? 
Rough carpentry works on the framing of any building, and it focuses on building wood and metal support upon which the carpenter and builders will erect the structure. The walls, floor, and roof are some of the areas that fall under this category.
Imagine it as a 'skeleton' on which the rest of the building will be formed. The goal of a rough carpenter is to meet all design and building codes and ensure basic engineering principles are enforced.
Difference Between Rough Carpentry and Finish Carpentry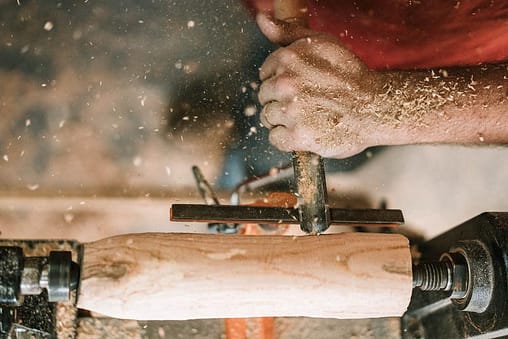 Generally speaking, carpentry involves various assemblies, repairs, and construction of wooden and metal structures. There are two kinds of carpentry: rough and finish.
As mentioned, rough carpentry involves building the essential foundation. Rough carpenters construct things like the bases for walls, floors and roofs.
Finish carpentry involves the visible details, including wood features and designs such as window frames and baseboards.
How To Become a Rough Carpenter
What Does a Rough Carpenter Do?
A rough carpenter works on various aspects of a building's initial frame.
Aside from building the basic structures, as a rough carpenter, you will be expected to inspect the structures and tools used.
You need to evaluate the structure's efficiency and evaluate for damages that could potentially harm the overall design of the building or those involved in the project.
As a rough carpenter, you're expected to be skilled in handling various types of wood and tools when installing the frameworks.
Here are everyday activities expected from a rough carpenter:
Communicate with supervisors and clients to discuss the project briefing
Look at CAD drawings and determine the details of the building specifications, dimensions and scale
Understand blueprints
Assemble the frameworks and use sleds
Drive trucks or other vehicles to move timber and other materials
Observe safety protocols in using the tools from the workshop to the building site
Drive post holes for support structures to be built upon, including anchor materials, scaffolds and hoists.
Position window frames, fixtures and other frameworks necessary before making the next set of structures
Work with other construction personnel, building owners and other subcontractors in the team
Skills and Qualifications Needed to Become a Rough Carpenter
To become a rough carpenter, you need to have at least a high school diploma (or equivalent).
In terms of experience and training, you need to have the skills to work with carpentry tools such as handsaws, woodworking equipment, power saws, power drills, roof supports, hoists and cables and wedges, to name a few.
You must already have a working knowledge of the basics of carpentry.
If you're actively seeking employment, rough carpenters with certifications and licenses might be preferred among those who don't have any.
Rough carpentry (Carpentry Level One) certifications are accredited by the National Craft Assessment and Certification Program, which teaches basic carpentry skills like construction math, reading blueprints, building safety procedures, working with concrete and reinforcing structures.
To become a Certified Lead Carpenter, you need a certification from the National Association of Home Builders (NAHB). This certification teaches rough carpenters to manage larger residential projects where you will tackle sales and operations, quality checking, budgeting, code compliance and building estimates.
Rough Carpentry Salary and Job Outlook
How Much Do Rough Carpenters Earn?
On average, a rough carpenter could earn $21.49 per hour (source: Indeed). However, salaries will vary depending on your location, training, certifications, and experience, and individuals with higher education and credentials could earn a higher salary.
Rough Carpenter Job Advancement
You can further enhance your career in rough carpentry by becoming a general contractor.
Job advancements like this require exceptional management or supervisory skills and years of experience in fieldwork. You will oversee the hiring of workers and be responsible for construction cost estimates.
Carpenters with in-depth experience could land first-line supervisory or independent contractor roles.
FAQs
What is the meaning of rough carpentry?
Rough carpentry is 'framing' in construction. It refers to the building and installation of essential structural foundations such as wood and steel frames like bridges, scaffolds, and roof supports.
What is an example of rough carpentry?
Rough carpentry is a branch of carpentry that involves working with raw lumber to create framing for buildings. It includes tasks such as putting up walls, roofs, and floors, and it also encompasses creating door and window openings and staircases. In short, rough carpentry is responsible for the skeleton of a building.
What are rough carpentry materials?
Rough carpentry involves many framing materials such as wooden support, roof support, hoists, and scaffoldings. Rough carpenters also need to be skilled in handling power saws, hand drills, and other woodworking equipment.
What are the types of carpentry?
There are two basic types of carpentry: rough and finish. For simplicity, rough carpentry works on the 'skeletal frames' of the building. Think of beams, studs, and rafters in this case. On the other hand, finish carpentry involves the design and shape of the building, including the windows, moldings, and stairs.
Carpentry can be further divided into these subcategories:
Framing – the building of ceilings, roofs, floors, and walls.
Joinery – joining pieces of food to build a strong support structure.
Cabinetry – assembling shelves, storage, and cabinets.
Furniture making – creating furniture such as tables, beds, and chairs.
Woodworking – a wide range of woodworks involving carving, woodturning, and lathe designs.
Rough Carpentry vs. Framing
Rough carpentry is often referred to as creating 'framing' structures. The one who assembles these structures is called a 'framer' or the rough carpenter. Framing is an act in which the carpenter puts building materials like wood, steel, and concrete, to give the structure its shape.
Thanks for reading! We hope you found this article helpful. If you're interested in learning more about carpentry or industry updates, don't forget to sign up for our newsletter below. We'll send you weekly updates with the latest news and tips in the carpentry industry.