Want to learn carpentry for your personal use? Or do you want to make a profit out of it? Whether you're interested in a new hobby or a new career, learning carpentry will equip you with skills you can use to add richness to your life.
In carpentry, you develop your creativity and craftsmanship. The best part is that when you enter this industry, you can assure yourself that you're here for a long time.
Luckily, we're still in the day and age where carpentry uses manual labor and not artificial intelligence or robots.
If you want to start now, there are just a few things you have to keep in mind. First, foundational skills are key to learning carpentry, and these are not skills that you can just develop overnight.
Second, getting your hands dirty and learning how to use power tools is what carpentry is all about. While it might be tiring at first, you'll soon enjoy having strong and productive hands.
In this guide, we'll give you in-depth knowledge of everything you need to get started in learning carpentry. From the easy things you need to familiarize yourself with and to the difficult things you'll need to learn, you'll find it all here. Let's jump in!
Start Here: Things to Learn as an Amateur Carpenter
There's a lot to learn when you're starting out in carpentry. One of the most important things is developing and maintaining the right mindset.
You probably already know that this job requires attention to detail and is physically demanding.
Not only that, but it also requires you to be precautious because you are not only putting your safety at stake but also that of others.
So, in carpentry, you should always remember that one of the top priorities is keeping yourself safe and of course, those around you.
Now that you're equipped with the proper mindset, let's get down to the more serious business.
In learning carpentry, there are several 'how-tos' that will help you in getting to grips if you're just starting out. Here's everything you need to know.
Learn How to Read Blueprints
This is especially important if you want to join the industry. The construction industry isn't as easy as you might think. There's a lot of creativity, a lot of math, and a whole lot of analyzing.
As a carpenter, reading blueprints is important because when working on a project, blueprints make sure all the other carpenters, as well as the engineers, contractors, and construction workers, are on the same page. This just ensures that the team is right on track with the progress and everything else.
You can also find many important details on blueprints such as the estimated costs, the construction schedule, and the building permits.
Learn How to Use Tools
One important reminder is that you cannot learn carpentry without learning how to use the necessary tools first.
Carpentry and tools just come hand in hand. Its relevant tools are what help you to put things together and build. Before learning how to use them, first know what exactly these relevant tools are.
Here is a list of the basic carpentry tools you will be using on a daily basis:
Measuring tape – this is a stiff yet flexible ruler that measures distance in cm and inches.
Squares – there are different types of squares for different uses, such as the sliding t-bevel, drywall square, framing square, and more. These tools are used to check the correctness of right angles.
Levels – a level is what carpenters used to measure the flatness of a surface. It helps in aligning surfaces correctly for construction purposes.
Hammers – for the majority of carpentry jobs, the most commonly-used hammer is called a claw hammer. This is used for manually driving nails and for pulling the heads of nails to remove them.
Drills – drills are used to make holes or drive fasteners.
Saws – for cutting pieces of wood to size. There are various types of saws, some manual and some electric.
Chisel – a chisel is used to carve, cut, and shape wood.
Learn Basic Carpentry Skills
After familiarizing yourself with the common carpentry tools and how to use them, the next step is to learn basic carpentry skills. In the basics of carpentry, this is when you get your hands dirty.
Some of the basic carpentry skills you need to learn are these:
Measuring
Marking
Cutting
Nailing
Painting
All these skills help with precision and accuracy when doing carpentry. With the need for meticulous attention, being able to measure, mark, cut, and nail the project you are doing will lead to the perfect finished look that you want.
When it comes to learning these basic skills, you can learn from a short woodworking course, or you can teach yourself. There are lots of YouTube videos for in-depth tutorials on how exactly to do these fundamental tasks.
Brush Up on Your Geometry
Every type of carpentry work requires you to have basic knowledge of geometry. This is because carpentry is based on applying your knowledge of angles, levels, circles and diameters.
If you're planning to join the industry, brushing up on your geometry is vital. It serves as a big advantage to you when you are doing some layout work.
Additionally, it impresses tradesmen if you can apply your knowledge of geometry to the problem-solving aspects of carpentry.
It is not only carpentry that gives importance to geometry but as well everything else that comes with the construction industry. Architects, builders and engineers all use geometry in their daily work.
Train Your Physical Strength
It is widely known that carpentry requires physical strength and endurance. Because of this, you should keep your physical health in check. Allow your body to adjust and get used to the physical demands.
If you're just learning carpentry to make simple projects for your personal use, it will be relatively easy to adjust to the physical demands of carpentry.
However, if you're trying to make carpentry a career, you should know this comes with standing for long hours, heavily using your hands to handle and control certain tools, walking or running for long durations to get from one site to another, bending and twisting your body frequently and repeating the same movement over and over.
With this in mind, be sure to train and condition your physical health to be able to keep up with carpentry's physical demands.
How to Get Started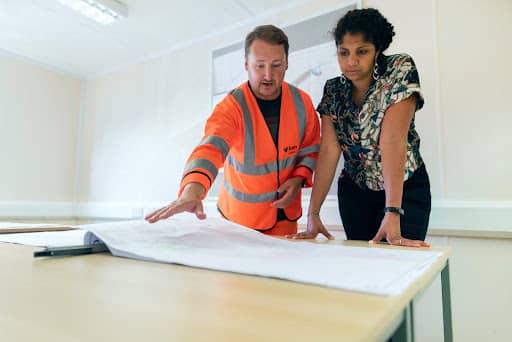 There are many ways to get started in carpentry. Whether you're interested in it for career purposes or personal purposes, learning carpentry at home is possible!
However, self-taught carpentry can only be applicable on an amateur level. If you want to learn carpentry on a more professional level, you will need a more structured learning approach.
Self-Learning Approach
Learning carpentry all on your own gives you the freedom to learn at your own pace. This is perfect if you're just looking for an additional hobby.
There are various different ways you can access self-learning materials, and you may want to experiment to see which suits your learning style best.
Here are the most common:
Books, Magazines, and Trade Journals
There are many books, magazines, and trade journals that tackle how to start with carpentry. Some books teach advanced carpentry skills while others are more beginner friendly.
If you're looking for some great carpentry books to purchase, consider these 6 books that are perfect for those who are just starting out:
Learn to Timber Frame by Will Beemer, Jack A. Sobon
Woodwork Step by Step by DK
A Guide to the Carpentry Skills Needed in Historic Aircraft Construction by Anon.
Carpentry for Beginners by Charles Harold Hayward
Carpentry & Building Construction by McGraw Hill
Carpentry for Boys by J. S. Zerbe
YouTube Tutorials
Nowadays, anything can be learned through YouTube, even basic carpentry. There are many YouTube videos out there that can help you learn in the way that best suits you.
On YouTube, there are also videos that can give you hacks about carpentry such as how to do one thing over the other because it makes the work easy. Some YouTubers make videos specifically for woodworking.
One YouTuber whose content is dedicated to carpentry is Steve Ramsey. His YouTube handle is Steve Ramsey – Woodworking for Mere Mortals.
You can find everything from a beginner's guide down to a fun woodworking talk show. Just search through the platform and you'll be sure to find something that will work for you.
Apply What You've Learned
In learning through reading materials and watching YouTube, make sure to build up both your practical and theoretical knowledge. Once you've understood the theory of what you need to do, it's time to apply what you've learned.
What you can do is first purchase some basic tools that you will need. Some of these tools are measuring tapes, hammers, chisels, drills, screwdrivers, and saws.
After buying the relevant tools, the next step to take is to put your learning to practice. Start small and research some easy-to-do woodworking projects. It can be a simple cabinet or shoe shelf. Work your way up until you can finally handle bigger projects.
If you want to apply carpentry in a professional way to make it your career, a different path is needed.
While you can learn the basics on your own, to make the leap into professional carpentry you will have to take certain courses and exams. You will also have to engage in a more structured learning approach.
Structured Learning Approach
While a college degree isn't required to be a professional carpenter, a high school diploma is. Many employers require a carpenter who has finished high school or at least has earned a GED.
The main reason a high school diploma is encouraged is that a profession in carpentry heavily deals with mathematical skills such as calculating angles. Another reason is that when it comes to applying for carpentry programs in technical schools, a high school diploma or GED is usually a pre-requisite for admission to the course.
For a structured learning approach, you must also take carpentry courses to develop your knowledge and practical skills. If you're a high school student and your school offers carpentry, you can take that as one of your subjects, or you can look for carpentry classes outside of school.
Some online schools offer high school carpentry classes. On platforms like these, you will be able to complete your high school online core classes such as Math, English, Humanities, etc. At the same time, it helps you prepare for a job in the construction industry.
If you have left school, you can enroll in carpentry classes in a community college. Both these options will give you everything you need to know when it comes to the basics.
The typical lessons cover safety procedures, basic terminology, materials, the use of carpentry tools and equipment, and of course, how to read blueprints. After studying all these, you will be able to take advanced courses like framing or even something as challenging as building construction.
If you want to take classes that focus on a certain field of carpentry or that teach a specific skill, your option is to enroll in specialty classes.
Get a Basic Carpentry Certificate
The completion of any course always merits a certificate. In the case of carpentry, this is called a basic carpentry certificate.
Adding one to your resume will certainly be beneficial to you as you apply to different employers, as it demonstrates your commitment to the field as well as the skills you've acquired.
Get a Carpentry Undergraduate Certificate
Getting a degree in carpentry isn't a requirement for becoming a good carpenter. However, it can be a big plus to help you significantly improve your craft.
A degree in carpentry will also give you exposure to the construction industry which will help you in your future career. And, of course, an undergrad certificate will be a good addition to your resume.
Typically, vocational schools offer degrees like this rather than traditional schools. Some people first get a degree in construction and then major in carpentry.
Before choosing your school, you must ensure that the school is accredited and that your degree will be recognized in your state.
You can also get an associate degree if you prefer. An associate degree program in carpentry teaches individuals highly advanced theories and techniques about carpentry.
More advanced courses are also available in this program such as building materials, remodeling theories, small business management and a lot more.
How to Kick Start a Career in Carpentry
After getting the necessary training and certifications, you are now ready for your career as a carpenter. But how exactly do you go about starting as a professional carpenter?
The carpentry industry can be very profitable if you have all the credentials needed in your resume, but you won't have employers or clients lining up at the door for your services the day after you qualify!
Here are three steps you can take to develop your experience and build yourself a strong foundation for your career:
Volunteer
If you lack some experience when trying to secure a job, one of the best ways to fill in some experience is to volunteer for a community carpentry project.
Many charitable organizations have projects that might need some extra labor. These organizations typically build houses that will be given to those in need.
To find projects like these, search online for a charity or non-profit that works in your area.
Find out what they're all about and if you find one that involves the need for carpentry, reach out to the organizers and let them know that you're willing to help.
You can add this to your resume once you've finished the job. If you're still looking for more, these types of organizations typically never run out of projects. So as long as you keep looking, you're bound to find the right one for you.
Get a Carpentry Apprenticeship
One big reason why enrolling in a carpentry apprenticeship is a good idea is that aside from equipping you with the necessary skills, a carpentry apprenticeship also helps you get into the industry and gain connections.
They offer professional career services that are available through employer connections and some access to job boards. They also help you by giving you resume-building tips which increase your chances of landing a job.
Work Under Local Experienced Companies
If you think you've already got a shot at working for labor companies, then give it a go!
Whether you're working full-time or even part-time, working under a labor company will give you some great experience in the field of carpentry.
Working for a labor company can help you learn more carpentry techniques, hone your skills and expand your knowledge of the industry itself.
In these jobs, you'll be exposed to many experienced carpenters who you will be able to learn.
To find a labor company, you can search online, or you can ask those in your neighborhood about the common labor companies or temp agencies in your area.
Once you've got the companies listed, reach out to them to find out more about the hiring positions they have. If a position for a carpenter is available, then you can submit your documents and apply for the position.
FAQs
Is carpentry hard to learn? How long does it take to learn carpentry?
Carpentry is a career path that requires not only physical strength but also great intellectual capability as it deals with analysis and mathematical problems daily. Even after studying the theoretical details, there will still be a lot to learn practically. It isn't easy but if you have the right mindset and a firm determination, you'll get by.
In terms of how long it takes to learn carpentry, every person has different learning capacities. However, becoming a junior professional carpenter often takes 3-4 years. This includes the programs you enroll in as well as the on-the-job experience.
How long would it take to become a professional carpenter?
After studying the basics and learning the practical skills, it can still take another 5-7 years to become truly skilled. Of course, this varies from person to person.
What qualifications do carpenters need?
The requirements vary across countries and states. Some only need some GCSEs and an apprenticeship. Others require just specific on-the-job experience.
Here are some typical requirements of being a carpenter:
A high school diploma
An associate degree or apprenticeship
Knowledge of the use of related tools
Ability to comprehend blueprints, building plans, and sketches
What is the highest degree in carpentry?
The highest degree in carpentry is a doctorate degree which comes in a 4-year duration program. This program requires coursework such as a thesis or dissertation. A master's degree is done before a doctorate and requires a 1-3 year program in need of 50 – 70 credits.
Before this, you have a bachelor's degree which also comes in a 4-year program with 120 credits. The most common level of education attained by those in the industry is an associate degree. This comes in a 2-year program with 60-70 credits.
How much money do beginner carpenters make?
Entry-level carpenters in the US can make $32,595 a year. This is approximately $15 an hour.