Being a contractor means overseeing projects and making sure they are flawlessly executed on time and within budget. But how can you run a project without getting your contractor license in order first? Specific requirements must be met depending on what state you are currently living in, in this case, the state of California. If a construction project in California costs more than $500 in labor and materials, it requires a licensed contractor.
To apply for a California contractor license, a contractor must get insurance, take exams, and pay the applicable fees, among other requirements. Having a license will help your contractor business become more competitive. It is the first step to helping you grow in the contractor industry.
Who Issues the General Contractor License?
The general contractor license is issued by the Contractors State License Board (CSLB). Since its inception in 1929, the CSLB has become the licensing body that provides and regulates California's construction industry. To date, the CSLB has already issued close to 300,000 contractor licenses in over 40 different classifications.
What Can a General Contractor Do?
In the State of California, licensed general contractors can perform several kinds of activities:
Foundations – laying in solid structures using concrete, stone, or steel beneath columns
Plumbing – putting in two-way piping and fixtures for water and outgoing liquid waste
Electrical – installing electricity to make sure the building has full access to the grid
Earthmoving – digging and moving large amounts of land using heavy machinery
Framing – giving shape and support to the structure's foundation Roof laying – providing shelter, choosing the roofing material while ensuring stability and weatherproofing
These are the common works a general contractor can do. California-licensed contractors are divided further into three general contractor license types.
General Contractor License Types
General Engineering Contractor
General engineering contractors have licensed contracting businesses involved in fixed works that need engineering skills and expertise. Engineering contractors often work on large construction projects like train stations, stadiums, dams and bridges. Their work includes activities like irrigation and waterways, harbors and docks, railroads, tunnels, highways, airports, powerhouses, industrial plants and other large-scale projects that require logistical planning and design.
General Building Contractor
General building contractors are engaged in building shelters or enclosures for persons or animals. Contractors of this type can build houses, buildings for occupancy, office spaces and other kinds of dwellings by putting in foundations, framing, and carpentry activities among others.
Under the general building contractor type is the Residential Remodeling Contractor. These contractors are involved in improvement projects on existing residential structures. Works like repairing and replacing old electrical, plumbing and mechanical fixtures are included in this category.
Specialty Contractor
Specialty contractors have licensed contracting businesses engaged in works that require specialized knowledge and skills. Particular expertise includes testing fire systems, installing special types of flooring, pre-and post-roadway construction services and other public constructions.
Other Certifications
The CSLB also gives a different license certification to a couple of specialized subjects: Asbestos Certification and Hazardous Substance Removal Certification.
Education
The State of California does not require any specific educational qualifications to issue a contractor license. Private schools and colleges only offer vocational training, but California does not have any classroom or virtual licensing preparation schools for contractors. Exam study guides are provided and are publicly available online by visiting the CSLB website.
Field Experience Requirements
Although no educational experience is required, a California applicant contractor must have had a minimum of four years of journey-level experience for the past 10 years before filing an application. A journey-level experience involves completing an apprenticeship program or being an experienced worker who can perform contractor duties themself. Experience as a journeyperson, foreperson, supervisor and contractor are the only roles accepted.
To verify the experiences indicated, validation is required from the employer, a co-worker, business associate, or homeowner/client for self-employed contractors. They should be able to witness related work being done by the applicant within the timeframe indicated. The validating individuals are then required to sign the Certification of Work Experience form to be submitted along with other experience documentation during the license application.
Getting Your License
Now that you have the experience and training, a general contractor exam will be conducted after the submission of the processing fee. After passing, payment of the initial licensing fee is required together with a contractor bond and proof of workers' compensation insurance (or an alternative to it).
General Contractor Exam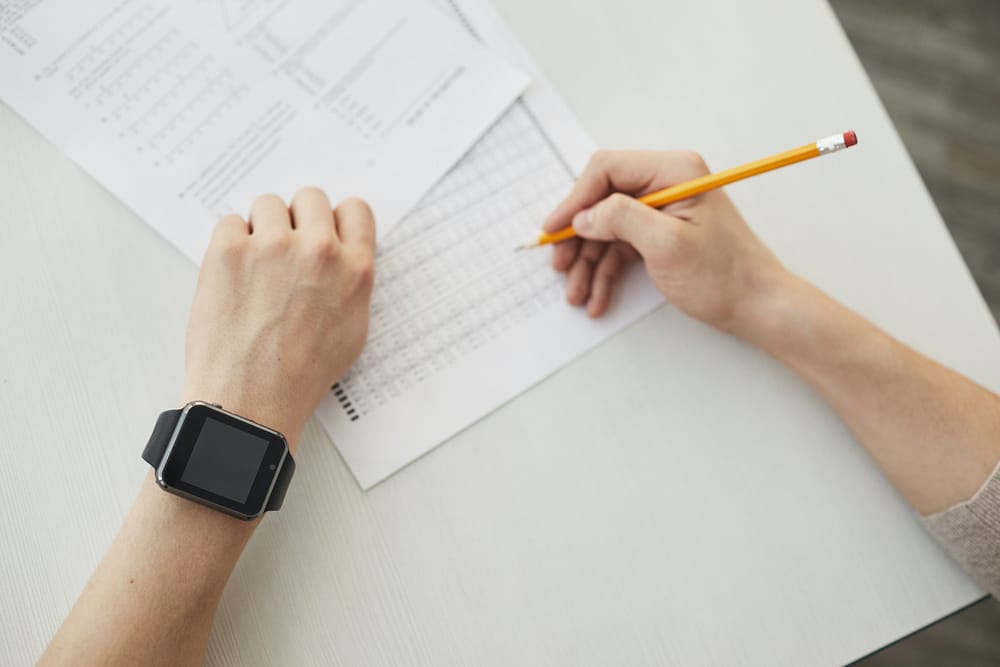 A general contractor exam is facilitated after a contractor becomes a qualifier. A qualifier is a contractor who can meet the experience and exam requirements of the CSLB. The process of undertaking an exam is as follows:
Applicant must submit all documents required by the CSLB together with the non-refundable processing fee
A letter of acknowledgment should be sent together with the application fee number and a PIN for checking the application's status
After reviewing and checking that the applicant is required to take the exams, they will receive a Notice to Appear for Examination at least three weeks prior to the exam date together with the exam date, location, and direction of the testing site, and identification required to be presented on the date of exam
Exams are computer-based and consist of multiple-choice questions
Applicants are given 3 ½ hours to take each test: the Law Exam and Business Exam on California construction laws and business management, and the Specific Trade or Certification Exam in the category applied for
Results are given right after the exam. Passers are informed but the results are not detailed while non-passers are given their score for each section to enable them to prepare for a retake
After passing or if the exam is waived, the CSLB will provide the other required documents like a contractor bond and workers' insurance
If further investigation is required for work experience or background checks, the CSLB will not issue the license until the investigation has been completed
If unable to pass an exam, the applicant must pay a fee for every rescheduled take. Applicants must be able to pass the exam within 18 months before being considered void. If only one exam is passed, results are only good for five years before retaken
Note that for every exam retake, a $100 fee is charged per exam. A one-time rescheduling is also permitted with the same fee and submission of relevant documents like medical emergencies for failure to come on the exam date and a duly accomplished rescheduling form.
Fulfill Prerequisites
Other than the fees and documents mentioned, there are other requirements before a contractor can obtain their license:
A non-refundable $330 processing fee whether the application is accepted or not
Full set of fingerprints for a criminal background check
Open book exam on Asbestos Abatement Standards (can be taken via CSLB website)
A $200 initial licensing fee covering a contractor license for good for two years
A $15,000 contractor's bond or cashier's check
Proof of valid certificate of workers' compensation insurance from the Department of Industrial Relations
Financial Requirements
There is no need to meet any net worth or gross income conditions to apply for a contractor license. However, there are other financial requirements that must be secured before an applicant becomes licensed like the insurance and the bond required.
Credit & Criminal Background Checks
All new applicants are required to submit fingerprint sets including each officer, partner, RME and owner. These specimen prints are then forwarded by the CSLB to the California Department of Justice and the Federal Bureau of Investigation for data comparison. In some cases, the CSLB may require applicants with criminal records to submit a Disclosure Statement Regarding Criminal Plea/Conviction. Submission is voluntary and will not be taken against the applicant for granting or denying a contractor license.
The review and assessment of criminal records are made on a case-by-case basis. There is no immediate disqualification ruling for an applicant with a conviction record and all criminal records are evaluated based on the gravity of cases, their nature, the length of time passed after conviction, as well as the type of rehabilitation the applicant underwent with clear records from the time of criminal record until license application.
Depending on the evaluation conducted for applicants with criminal records, there are three possible end results after the CLSB's Criminal Background Unit (CBU) investigation:
Clearance to move forward with the processing of a regular license
Grant of a fully functioning license with probationary status good for two to four years
Denial of application due to applicant's history of criminal record
When an application is denied, the contractor may request a hearing based on the decision made. The request must be formally submitted in writing to the CSLB within 60 days of the decision to be entitled to a hearing. Keep in mind that you may experience a prolonged delay in the setting up of a schedule for the hearing.
Insurance Requirements
A contractor's bond amounting to $15,000 is required to be filed with the Registrar to be able to obtain a contractor license. On top of the contractor's bond, the applicant may be required to submit an additional $12,500 as a Bond for a Qualifying Individual for the RMO or the Responsible Managing Employee (RME). These bonds may be purchased by the applicant from an insurance agent or a licensed private holding company under the California Department of Insurance. A contractor's bond is good for one to three years depending on the arrangement with the insurance agent. Upon expiry, it may be canceled or may be extended with an additional premium payment.
All contractors are also required to submit proof of workers' compensation insurance coverage. Applicants can also submit exemption from workers' insurance if the contractor does not have employees, is not an RME, or is not a C-39 roofing contractor classification holder.
Conclusion​
Obtaining a license for contractors in California requires an applicant to submit the required documents; pay the necessary fees; take the law, business and trade exams; undergo a criminal background check; and secure a contractor bond and workers' insurance. Applying for a contractor license in California is not that complicated especially if you have all the must-haves in order.
We have other news and construction articles for you! If you enjoy our content and want to know more, it will be our pleasure to provide you with valuable insights delivered straight to your inbox. Simply sign up for the newsletter and receive all things construction here.