Painting estimation is a trade with many variations to consider. Surfaces may not be equal and various designs may be required. These further complicate calculations for your estimates.
Accurate estimates are required to gain credibility with clients, win more bids, and work profitably. Manual painting estimation is time-consuming and error-prone, but painting software give accurate and fast results.
This article gives you a comprehensive overview of the best painting estimating software in the market today to help you take your painting business to the next level.
Criteria
You can get plenty of software out there but only the best can give you value for money. The software had to meet specific criteria to appear in our list.
Ease of use
Accuracy
Excellent customer support
Fast
Based on these criteria, here are the best ones:
PaintScout
PaintScout is a paint estimation software created for commercial and residential painting contractors.
Features
Easy calculation of costs – measure your surfaces, apply your production rates, add prep work and your estimate is done
Get estimates and work orders simultaneously – as you calculate your estimates, you are creating work orders for your crew, thus saving your time
PaintScout web proposals – create mini-websites to market your painting business alongside your estimates
Create and send invoices and track your payments – convert proposals into invoices with a button's touch and track payments made per invoice
Integration with other apps like Quickbooks, Zendesk, Zapier and PipelineDeals
PaintScout auto follow-ups – create follow-up messages for your estimates and invoices at a convenient schedule
Easy to use touch interface – as an on-site software, it works on all tablets and smartphones.
Estimate templates – create ready-to-use templates for your most common projects and send the estimates in minutes
Suitability
PaintScout is best for painting contractors.
Verdict
PaintScout considers all your painting needs and equips you for success.
Pricing
PaintScout has four versions – Free, Premium, Business, and Enterprise. The Premium version is billed annually at $59 per user per month. Billed annually, the Business version goes for $79 per user per month.
The Enterprise version is for organizations with bigger teams that require more support.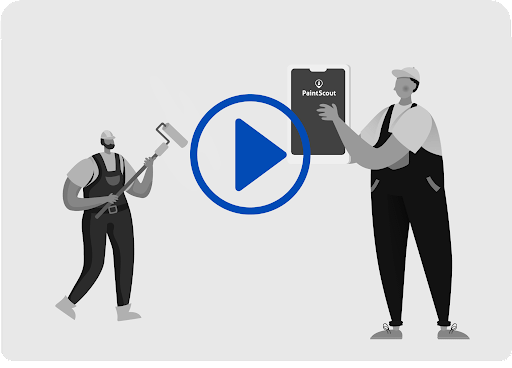 Painter's Estimating Program
Painter's Estimating Program (PEP) is a painting estimating software for painters.
Features
Flexible estimating – you can use price per square foot, production rates, or any other way and PEP will create the estimates for you. Put in the details or notes and PEP will transform them into an estimate!
Intelligent tracking – track your deals using sales and work pipeline as well as scheduling and invoicing
Powerful CRM – every piece of client info is well stored to help you care for your customers
Easy setup – PEP is not designed for installation; all you need is to set up an account
Efficiency – PEP is a cloud-based program that allows you to work wherever you are
Security – PEP servers are surveilled by 24-hour enterprise-grade security and are backed up each night to keep your information safe
eBid feature – PEP's eBid is an amazing electronic bid that makes you irresistible to clients
Suitability
PEP is best for painters.
Verdict
PEP helps you work smart instead of hard, taking your business to the next level with more jobs and happy customers.
Pricing
PEP has plenty of training videos to help you understand the program and make the most out of it. Visit PEP to request price details.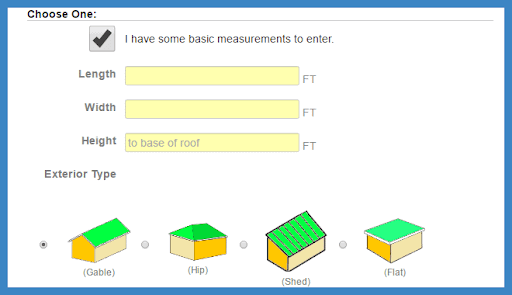 STACK
Stack painting estimating software is built for painting businesses and painting contractors.
Features and Benefits
Fast and accurate takeoff – measuring the area and surface is quick, making the takeoff fast and accurate
Integrated labor – easily add labor to your estimate when taking measurements
Prebuilt and custom materials – a library of painting supplies is available, but you can also add your own
Team collaboration – your employees, coworkers, and eternal partners can access your project documents on the same platform. You can control everyone's privileges over the documents
Organized project plans and schedules – use Stack's numerous features such as AutoNaming to name your plan pages and maximize organization. You can then use the Plan Search to sort specific plans
Easy to use interface with drag-and-drop functionality – Stack's cascading folders allow you to easily move files in and out. The Plan Overlay feature shows you to change between your various project plan versions
Estimate job costs – Stack improves your accuracy and the AutoCount helps you calculate material quantities
Proposal generation – take measurements with Stack or key in the numbers and let the software calculate. After putting in the measurements, labor, waste and other costs in the software, you can create a proposal
Suitability
Stack painting estimating software is best for painting contractors, painting businesses, estimators and painters.
Verdict
Stack helps you save time, increase your accuracy, bid and win more profitable jobs.
Pricing
Stack has a free version and paid options. Paid versions begin at $1,999 per year and come loaded with exciting perks.

The Paint Estimator
The Paint Estimator (TPE) is a painting estimating software built for independent painting contractors.
Features
Various estimating methods by the item, day, production rates or time, and materials.
Export proposals to plenty of formats like PDF, DOCX, RTF, HTML, and OpenOffice files
An impressive invoice format similar to Quickbooks layout
Create work orders, change orders, timesheets, reference list, terms and conditions and attach them to your proposals
A calendar to sync with your Google calendar
Prebuilt material list
Production rate recorder for future reference
Customer database page
Progress page to track your work progress
Suitability
TPE is dedicated to painters.
Verdict
TPE is a cheap and easy-to-use painting estimating software to help you with everything about painting.
Pricing
TPE has a 5-day trial period. The paid version costs a one-time fee of $129 with future updates and free support.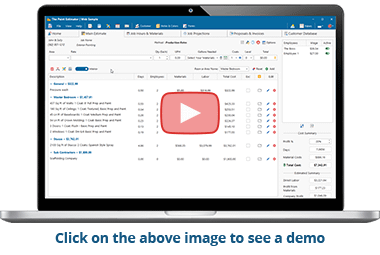 PlanSwift
PlanSwift painting estimating software is a cloud-based solution built for commercial and residential painting contractors and subcontractors.
Features
Easy painting takeoff and estimating
Excludes unwanted areas such as doors and windows to give accurate area measurements
You can create custom assemblies for additional materials and layers
Drag and drop functionality to add materials and get instant calculations
Compatible with other applications like Excel and PDFs
Suitability
PlanSwift is best for painting contractors, subcontractors and estimators.
Verdict
PlanSwift makes your painting estimating easier, more accurate and fast giving you ample time to increase your bidding.
Pricing
PlanSwift costs a one-time fee of $1,595 and an annual $300 for updates and support thereafter. It also has a free 14-day trial period.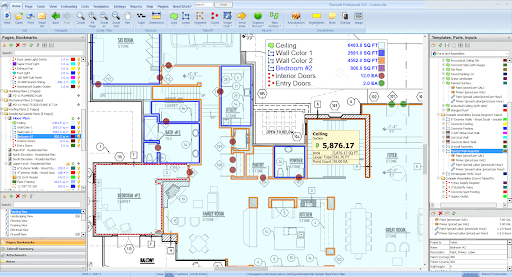 JobNimbus
JobNimbus supports professional contractors in both commercial and residential settings.
Features
Easy creation of professional proposals which can be signed digitally
Paint estimating program which can be used on the job site with built-in labor and materials costs
Sync with QuickBooks desktop or online
Invoices and payments are quick and digital
Excellent, prompt customer service
Suitability
JobNimbus offers a CRM platform for both professional, well-established contractors and independent, smaller businesses. They have a variety of plans for different needs.
Verdict
Though they don't cater specifically to painting contractors, this award-winning software is a good choice for painting estimating.
Pricing
JobNimbus offers a free consultation and a 14-day free trial. You'll have to contact them to find out more about their plan pricing.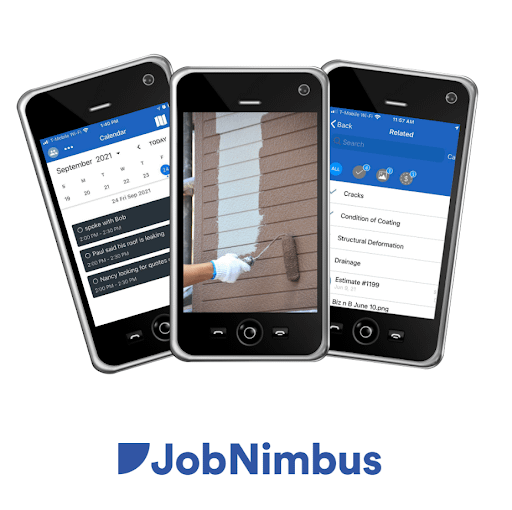 Estimate Rocket
Estimate Rocket is a software solution for industrial, civil, commercial and residential construction.
Features
Cloud-based and works on all devices
Automatic backups – your info is stored in off-site data centers with an end-to-end encryption
Unlimited customer support from real people and free software updates
Easy to use – create and send estimates, work orders and invoices quickly without complex spreadsheets
Improve your accuracy and response time
Save time, close more sales and increase profits
Suitability
Estimate Rocket is best for painting contractors and professionals in the trade.
Verdict
Estimate Rocket keeps you organized, efficient and responsive to your customers.
Pricing
Estimate Rocket comes with a 30-day free trial after which you pay $59 per user per month. You can add field users for $10 per month. Communicate with the software provider if you have more than six employees, want an annual plan, or need help with getting started.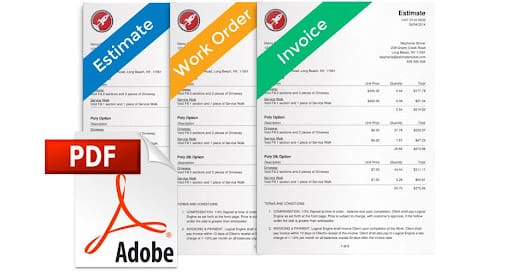 Estimating Edge
Estimating Edge painting estimating software is designed for commercial painting contractors.
Features
All-in-one painting estimating package – comes with painting databases preinstalled with manufacturer-specific principles and prices. It's also customizable for interior and exterior painting takeoff and estimating
Accurate material and labor costs – the software chooses appropriate tools for various material and labor combinations. The EDGE Smart Labor calculates the extra time for moving the ladder as needed
Painting demo to help you understand the whole process
Best customer service from painting-experienced staff and one-on-one training to ensure you get the most out of the software
Analytics and reporting – instant production of detailed reports, profit recaps, ordering, alternate pricing and job costing
Minimize waste – the EDGE's incremental takeoff increases the efficiency of your material costs
Suitability
Estimating Edge painting estimating software is best for commercial painting contractors, professionals and estimators.
Verdict
Estimating Edge is a one-in-all painting solution with one-on-one training and excellent customer service to meet painting contractors' needs.
Pricing
Reach out to Estimating Edge support for pricing details.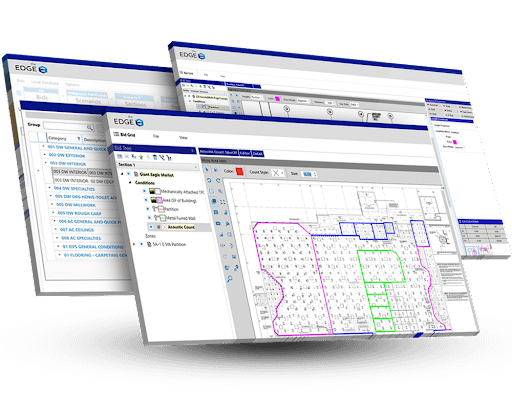 Field Circle
Field Circle painting estimating software is built for painting contractors to monitor field activities.
Features
Geofencing location alerts, entry/exit activities and date
Measure performance per employee
Cloud-based – access anytime, anywhere and on any device
Data insight for accurate labor and material cost estimation
Work order management – efficient utilization of resources through work order tracking
Time-tracking and timesheet – manage productivity in real-time using forms and sheets. Schedule tasks on a skill and availability basis
Inventory management
Reporting and analytics
Suitability
Field Circle is best for painting contractors but also relevant for other employees in the trade such as managers, supervisors and accountants.
Verdict
Field Circle painting estimating software gives you complete visibility of field operations and capabilities to help you boost your bottom line.
Pricing
Field Circle has a 7-day free trial. Price details are obtained via direct contact with the software provider.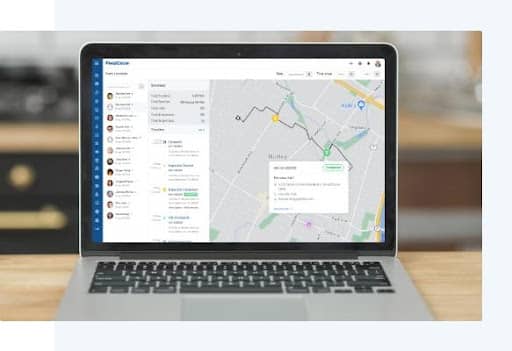 Conclusion​
Painting estimating has been made easier and fast with modern software. You don't need to rely on outdated methods anymore; calculate your estimates fast, increase your accuracy, send more bids, and win more jobs profitably.The software above will meet your painting needs and give you value for money. For more information on painting estimation, subscribe to our newsletter.