Accurately trying to identify all the costs for HVAC work can be difficult and time-consuming. To make your job a little easier, we have scoured the internet for ways to make HVAC estimating less of a hassle.
HVAC software will help you to estimate all your costs accurately and efficiently so that you can pass on a professional quote to your potential customers.
Criteria/Selection Guide
To be considered the best software, they had to meet the following criteria:
Industry-leading in accurate costs estimation for HVAC work
Able to calculate lengths, volumes, and areas to provide a bill of materials
Able to generate accurate material lists for HVAC assembly
Here are some of the best HVAC estimate software you should know about.
FastDuct
FastDuct is a well-known ready-to-go HVAC software that provides fast and accurate price quotes for the estimation of material costs.
Features
Able to support different types of digital plan formats
Able to provide specifications specifically tailored for every HVAC
Allows takeoffs to be performed directly on an on-screen digitizer
Allows labor rates to be based on industry standards which can be adjusted
Allows labor rates and material reports to be filtered and sorted depending on preference
Allows material pricing to be job-specific dependent on supplier quotes
Suitability
FastDUCT is used mainly by commercial and industrial sheet metal contractors.
Verdict
FastDUCT is a highly recommended software that is easy to learn and use. The on-screen takeoff is excellent as well as the ability to suit your style of working. The customer service is great with people always ready to answer queries.
Pricing
FastDUCT pricing starts at a flat rate of $4,995.00. It is a one-time payment, and it does not offer a free trial.

Contractor Foreman
This software is an all-in-one construction management software for your phone, tablet, and computer.
Features
Can receive online payments
Can accurately generate estimates
Includes free training and support Projects are unlimited 
Provides real-time collaboration
Allows easy project tracking 
Allows project-based commissions
Offers complete project records
Features weather tracking
Features inspection tracking
Provides service reminders 
Provides easy file sharing 
Suitability
Contractor Foreman is suitable for subcontractors, field service contractors, remodelers and GC/ builders.
Verdict
Contractor Foreman provides excellent features for construction project management. Support responses are quick and you truly get your money's worth. 
It is a great tool for project cost tracking especially if you work with a large team. It gears you up for any construction service giving you all your needs and other features you didn't know you needed.
Pricing
FastDUCT offers 4 plans. The first plan, which is the most, affordable starts at $49 per month. The second plan starts at $87 per month. The third plan then starts at $123 per month. Lastly, the unlimited plan starts at $148 per month. This plan allows unlimited users which is best if you have a large-scale team. They also offer a 30-day free trial.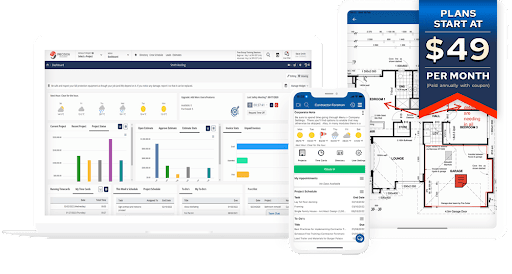 ProCore
ProCore is a construction management use software that takes control of construction outcomes by minimizing risks and protecting profits.
Features
Proactively plans projects
Creates accurate estimation for project success
Streamlines the tendering process from prequalification through conversions of tenders to subcontracts
Enables you to build a budget of full visibility into every dollar on your project
Enables you to simplify the takeoff process
Allows review and collaboration on construction documents from one integrated platform
Enables you to optimize your manpower resources with scheduling across jobs
It takes control of labor costs by giving you real-time visibility into the financial impact of labor costs
Enables you to access integrated and on-demand reporting across your project or portfolios
Allows sharing of visual reports
Suitability
ProCore is suitable for owners, main contractors and subcontractors
Verdict
ProCore is a great full-on management software that is good for HVAC estimation. It provides thorough ways to best oversee the operation of a construction team with many members.
It is a great investment as you will surely appreciate the straightforward yet very helpful features.
Pricing
ProCore offers 3 different plans. The first plan starts at $667 per month, billed annually. The second is priced at $870 a month, also billed annually and the last one is priced at $1182 a month.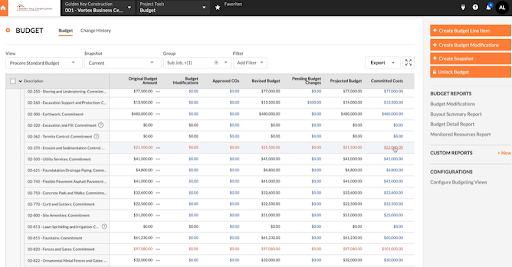 Jobber
Jobber is a field service scheduling software that also has HVAC estimating features. It is the number one service scheduling software.
Features
Enables you to send professional quotes
Customers can select the add-ons or premium services that best fit their needs
Allows consumer financing
Allows automated follow-ups
Enables online quote approvals
Enables viewing of estimated margin on quotes
Helps you find clients, jobs and invoices
Attach photos and files to a client's account and collect signatures within the Jobber app.
Suitability
Jobber is suitable for small businesses of 1-50 employees, landscapers, electricians, HVAC repair and installers and the like.
Verdict
Jobber is a comprehensive solution for a reasonable price. It provides an accessible user experience and is well-established among many field service management software programs.
It's good for invoice disorganization as it features a search for invoices so that you can check whether they've been paid or are near their due date. Invoicing can also be done and is easy on the mobile app.
Pricing
With having 3 plans,  you can choose depending on what you need and what you can afford. The first plan, called Core, is priced at $39 a month. 
The second, called Connect, is priced at $119 a month. Lastly, Grow is priced at $239 a month which is very affordable considering all the features you can benefit from.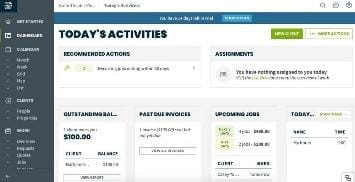 PlanSwift
PlanSwift is an easy-to-use takeoff software made specifically for construction estimating.
Features
Enables quick trace linear takeoff for A/C supply lines
Enables instant derive volume of rooms for heating and cooling
Allows you to generate accurate material lists for HVAC assembly and instantly calculate cost
Offers faster takeoff estimates that are mistake-free
Takeoff in a fraction of the time with PlanSwift software click, drop and estimate functionality
Enables you to manage projects large and small with accurate, timely calculations.
Offers easy to adjust cost projections
Enables you to bid on more jobs, manage jobs more efficiently and grow your business
Suitability
PlanSwift is used by house builders, groundwork contractors, design and build contractors, roofing contractors and more.
Verdict
PlanSwift is simple to use and ideal for quantity estimation and takeoffs. It is accurate, fast, and reliable. Its features save a great number of hours which provides more productivity.
Pricing
PlanSwift offers only 2 plans. PlanSwift Professional and PlanSwift 1-on-1 Custom Training good for 3 hrs. The Professional plan has support and updates to the software for the first year.
After the first year of free updates, updates and the support program are optional and cost US$300.00 a year.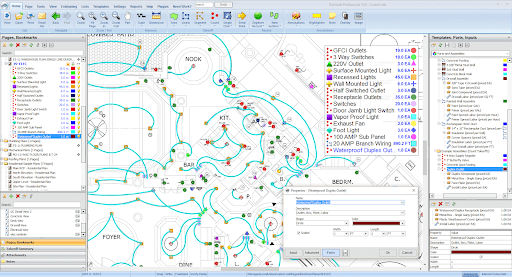 Esticom
Esticom is a cloud-based estimating and construction takeoff software that helps contractors deal with construction projects.
Features
Increase takeoff speed by 5x
Count items across multiple pages
Filter results to ensure accuracy
Update project with new versions
Organize plan sheets into folders
Automatically rename plan sheets
Measure conduit and wire runs
Add fittings automatically
Designate drop distances
Place design build symbols
Cloud and annotate plans
Export to PDF with legend
Suitability
Esticom is mostly used by small businesses of 1-50 employees and those in the construction industry.
Verdict
Esticom is a great software to save a lot of time in doing estimations and tracking projects on whatever device you use. It is flexible enough for various assemblies, parts, rates, and reports.
It is safe to say that it is one of the easiest and most flexible low voltage software products. Takeoff time because of Esticom has been improved by 87%.
Pricing
Esticom offers a free 14-day trial, then charges $139 per month, if you wish to continue.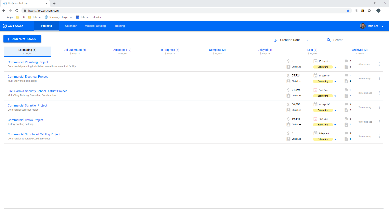 ServiceTitan
Features
Dispatching services are available
Allows customers instant approval of projects
Enables phone numbers for tracking ROI in real-time
Provides accurate bidding that customers can feel confident in
Allows delivery of time-sensitive quotes that provide protection to margins
Detailed proposals are created
Suitability
ServiceTitan is suitable for commercial and residential HVAC, plumbing, electrical, and other field service businesses
Verdict
ServiceTitan is a good software for a better and more effective workflow. It is reliable and provides its users with important tools needed to estimate costs, sell and install/repair for residential customers. It is very user-friendly and includes unique features.
Pricing
ServiceTitan is priced at $389 per month. This price is increased depending on the needs of individual contractors. They only require an annual purchase but do not charge additional fees.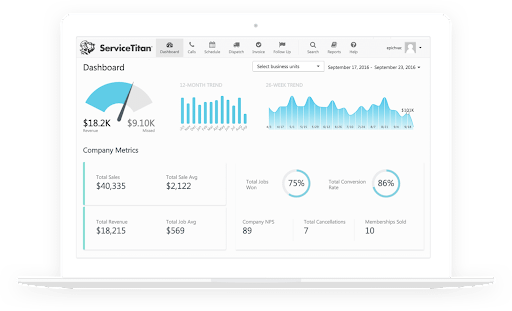 Simple HVAC
Simple HVAC is a powerful HVAC estimating software. It is designed for commercial sheet metal contractors that need accurate estimating tools.
Features
Features unlimited projects and easily backs up all project files
Provides powerful calculations
Provides professional quotes
Offers a unique BID sheet
Provides lifetime updates at no cost
Suitability
Simple HVAC is made specifically for commercial HVAC contractors.
Verdict
Simple HVAC is one of the most accurate estimating software options and the great thing about it is that it is made for HVAC contractors. This means that they offer the most important benefits that HVAC contractors need.
Pricing
Simple HVAC costs $347 and this is a one-time payment. There are no monthly subscriptions, and it offers unlimited estimates.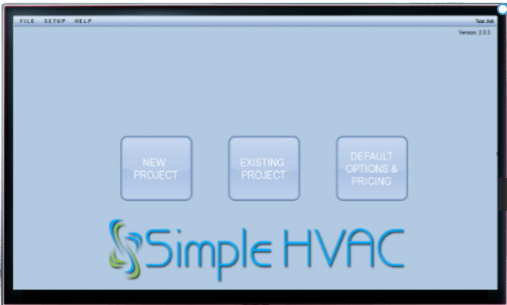 Conclusion
HVAC estimating can really be time-consuming, and a lot of effort is exerted in this task. Many contractors may have a difficult time in this aspect.
With HVAC estimating software, your construction project estimates will be much less time consuming and more accurate. Productivity for you and your workers will be boosted. If you want to learn more, more information is available with us, sign up for our newsletter.