Accurately estimating costs for electrical work must be a priority if you want to succeed in today's competitive market. What better way to do so than to make use of the various digital calculation tools available on the market today.
How will you be able to select the best one with so much available software out there? In this article, we will guide you in choosing today's top electrical estimating software.
Criteria/Selection Guide
To be considered in this list, here are some of the features that had to be part of the software we chose. To get the best software for your electrical estimating business tasks, it must have:
Precision
Flexibility
User-friendliness
Integrations
Pricing
Industry-leading
Unique extra features
Given that, here are the best ones we've found that would make your electrical estimating trouble-free:
Houzz Pro
Houzz Pro is software created for almost everyone in the construction management industry. It caters to attracting, winning, and taking care of clients. It's suitable for both commercial and residential contractor services.
Features
Estimate Builder feature: converts takeoffs into estimates and even creates project templates to help win the client fast
Access to local labor and materials library
Automatically generates your project estimates ready for the client's approval
Who uses it?
Houzz Pro serves a diverse number of users from home builders, remodelers, and interior designers, to architects, handymen and painters, to landscape contractors and specialty contractors.
Final thoughts
Houzz Pro acts as a one-stop shop for all contractors' and designers' needs. It lets you work on an individual software rather than having to get a couple more tools along with it, allowing you to work in comfort and produce faster proposals for clients.
Pricing and where to find them
Houzz Pro has three different paid plans:
Essential – $49/month
Starter – $65/month
Ultimate – $399/month
They also offer a Basic plan free of charge with Basic Profile, Directory Listing, and Lead Inbox features. Check out more about Houzz Pro here.
McCormick Electrical Estimating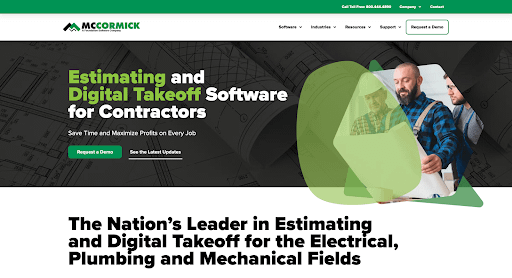 McCormick Systems offers Estimating and Digital Takeoff Software for electrical, plumbing, and mechanical contractors for both commercial and residential projects. 
Features/Benefits/Specifications
Automatically estimates material costs and labor hours
Customizable database with 55,000 items and 25,000 prebuilt assemblies
Auto-count and Auto-Home Run for accurate measurements
Access to electrical databases for both the US and Canada
Who uses it?
McCormick Systems is used by small to medium-sized contractors for the McCormick, business contractors who want to scale for McCormick Pro and designers for Design Estimating Pro.
Final thoughts
This software offers project estimates fast and accurately and makes tracking and changing last-minute orders a breeze to modify. It has real-time design and estimates integrations so you can quote your client straight away.
Pricing and where to find them
McCormick Estimating Software prices are available upon demo request. It has no Free Trial or Basic Version but has no entry-level setup fee. Check out more about McCormick System here.
Trimble Accubid Anywhere
Accubid Anywhere by Trimble offers construction solutions for mechanical, electrical, and plumbing business needs. It offers manufacturer-specific content for each phase of commercial and residential construction for estimating, detailing and layout.
Specifications
Takeoff with costing and estimates
Proposal generation
Customizable branding
Accessible bid, project and change management anytime and anywhere
Multiple Labor Columns: uses productivity units or standard industry labor rates for easier monitoring
LiveCount feature: multi-user support where data can be modified in real time
Who uses it?
Trimble Accubid Anywhere can be used by electrical and ICT contractors. With its cloud-based technologies combined with multi-user support, anyone from your organization or team could use the software and sync your data in real time.
Final thoughts
Accubid Anywhere handles detailed electrical estimation giving you more opportunity to create quick and accurate estimates to retain existing clients and win new ones.
Pricing and where to find them
Trimble Accubid has a one-time flat rate starting at $2,000. It has no Free Trial or Basic Version offering as of date. Check out more about Trimble Accubid Pricing here.
TurboBid
TurboBid is an online tool developed by former contractors for ease of creating estimates for electrical and plumbing needs. They offer a separate platform for electrical estimating that lets you offer and create professional bid packages.
Features
Overhead Wizard: lets you know your real overhead expenses
Employee Wizard: checks your staff spending and helps you know the burden costs
Burden Wizard: lets you calculate the expenses for each employee
TurboBid Wizard: a setup guide where you can include your employees
TurboCloud technology for creating items and assemblies
Who uses it?
Electrical contractors who need help accurately creating estimates and contractors who want to know if they are at break-even or earning a profit instead of not making money at all.
Final thoughts about the product
TurboBid is a former contractor company that knows where a contractor is coming from. This makes it easier for them to cater to their clients' needs especially when it comes to electrical estimating.
Pricing and where to find them
TurboBid Electrical with Onscreen Take-off – $2,690
TurboBid Electrical Estimating (one-time purchase) – $1,395
TurboBid Electrical Estimating (4 monthly payments) – $399
TurboBid Electrical Estimating (monthly Subscription) – $99
Check out more about TurboBid and the services they offer here!
Intellibid
Intellibid estimating software by Conest software systems has created 4 different versions of Intellibid depending on your estimating needs. They cater to electric and low-voltage estimators.
Features
Over 350,000 assembly kits and 120,000 items in their database
Job Spec to save and reuse all created job specifications for quicker takeoff
Automatic labor factoring
Best vendor analysis
Quotation analysis
Who uses it?
Small and large contractors and data/telecom companies requiring an innovative digital upgrade for their electrical estimating method.
Final thoughts
This software allows you to reduce the time spent estimating and integrates features with other construction management systems to help you organize and claim more bids.
Pricing and where to find them
Aside from Intellibid's free trial for those undecided and who would like to try the platform first, they have three options you can choose from depending on the features you want accessible:
Intellibid Lite $2295
Intellibid Plus $3795
Intellibid Pro $5000
Check out more about Intellibid and the services they offer here.
Vision InfoSoft
Vision InfoSoft created Electrical Bid Manager made for all electrical estimators – whether big or small.
Features:
3-column labor units for easy customization
Made for engineering and customization
EPIC pricing with its 2M items and over 100 catalogs linked to each item
Bid Analysis: this feature adds all other costs and presents them for bidding
Who uses it?
Vision InfoSoft focuses on giving bidding electrical needs. Available to use for all electrical contractors from start-ups to multi-level companies with various hired electrical estimators.
Final thoughts
It focuses on what the client wants with many features available upon request and includes video training and webinars to the software they offer.
Pricing and where to find them
Electrical Bid Manager has Standard, Plus, and Pro plans. The pricing starts at $1495 for Standard Plan. It does not offer a free version, but it has available free trial and interest-free payment plans.
Check out more about Vision InfoSoft and the services they offer here.
Esticom
Esticom is a cloud-based takeoff and electrical estimating software under the Procore platform, a leading construction software. They offer an all-in-one estimating software for small and medium enterprises.
Benefits
No installations required – access the platform through any internet browser
Organized bid management with a wide range of categories for easier identification
Plan management helps update previous projects with data from new ones
Customizable database with out-of-the-box parts and assembly kits
Who uses it?
Esticom is made for small and medium businesses that are looking for basic software plans that support any device with basic integrations for their estimating business.
Final thoughts
Because of its instant access and no-installation setup to the platform, Esticom is fuss-free and very accessible to electrical estimators which makes them more effective in producing quality bids and proposals to win clients.
Pricing and where to find them
Esticom is available for a 14-day free trial. They have two other plan options:
Annual Billing – $1,299 for each estimator per year
Monthly Billing – $139 for each estimator per month
To know more about Vision InfoSoft and the services they offer, you may check them out here.
Countfire
Countfire is an electrical estimating software made for modern estimators that automatically updates your previous takeoffs with its end-to-end estimating tool.
Specifications
Automatic linking of previously used materials to their prices
Full breakdown of estimated items shown in a professional Excel document ready to send to the client
Side by side comparisons for more accurate estimates
Easily adapt to tender changes with color highlighting of all revisions made
Who uses it?
Countfire is used by both electrical and mechanical estimators for easier estimating.
Final thoughts
Countfire estimation software is a great tool for on-the-go contractors and estimators. Its cloud-based platform helps to access all takeoffs, reports, estimates and projects in one place anytime anywhere.
Pricing and where to find them
Countfire provides a 14-day trial with free access to all the software features. It has three pricing versions: Starter, Team and Business. The quotation is given after the client's request.
Check out more about Countfire and the services they offer here.
Electric Ease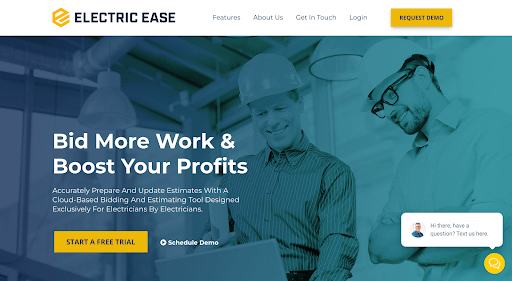 Electric Ease is a cloud-based platform for electrical estimating and bidding. It was created by former electricians for easier estimating and joining of the bidding process.
Specifications
User-friendly interface and easy system navigation for hassle-free creation of estimates.
Preventing job duplications and capturing all budget expenses involved
Customers' copies of bids can be sent multiple times
Save favorites and create categories for both items and assemblies used
Who uses it?
Electric Ease was created especially for startup to large enterprise electricians in need of simplifying the tools needed to estimate, win clients, collaborate and optimize their business.
Final thoughts
By using the Electric Ease software, electricians, contractors, and estimators can easily create bids and estimates with constant training and support available for users.
Pricing and where to find them
A free trial is available, and estimators may request a demo on how the software works. A basic license plan starts at $139. It has two subscription options: monthly and yearly. Clients who visit their website may leave their contact numbers to get a quote and breakdown of costs for your business.
Are you interested in knowing more and availing of their offers? Simply click here.
BasisBoard
BasisBoard is a simple dashboard that allows you to track bids and bid invites without having to enter any data or information. It is used by small and medium businesses, enterprises, freelancers and even nonprofit organizations.
Specifications
An automated bid board dedicated to managing bids
Connected email inbox for organizing and sorting bids into categorized company folders
Customizable creation of rules for filtering qualified projects
Track and monitor bids on the due date, prevent several estimators from bidding on the same project and work collaboratively on specific jobs
Who uses it?
BasisBoard is used by subcontractors and material vendors who want to transition from spreadsheets to a more self-operating, laborsaving system for their estimating and bidding needs.
Final thoughts
The use of BasisBoard for automated tracking of bids and estimates allows subcontractors to easily keep an eye on the estimators' tasks and projects. It frees time from manual administrative tasks and gives them more time to build relationships with General Contractors and to attend to more important matters.
Pricing and where to find them
The BasisBoard offers a free trial but has no free version available. For pricing details, subcontractors and estimators need to contact BasisBoard directly.
For more information about BasisBoard and its services, click here.
Conclusion​
Electrical estimating software helps by cutting out up to half of the time spent on creating takeoffs, bids and sending out client proposals. Tools like McCormick, Vision InfoSoft, Esticom, Electric Ease and Countfire allow ease in producing plans with a variety of items and assemblies. Houzz Pro, Trimble Accubid, TurboBid, Intellibid and BasisBaord help in managing estimates and bids so electrical estimates are done with precision and accuracy. To keep you updated with the latest trends and insights on all things construction, simply sign up for our newsletter here.